Award-Winning Digital Photo Manager
Press the below button to complete your Trial Pay order!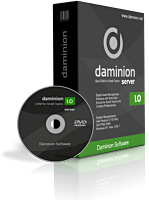 Daminion is the award-winning digital photo management software
Find your photos instantly with Daminion, the professional photo cataloging application aimed at creative pros and small teams. Available as standalone and multi-user server based versions. Search using multiple tag combinations from over 50 predefined including: keywords, description, date-time, rating, camera, lens and others.
Daminion 3-mins Intro Video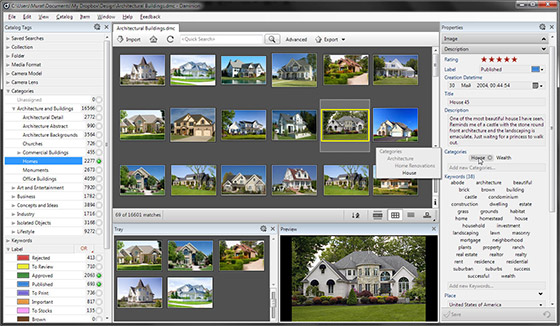 Daminion Workspace Screenshot

System Requirements:
Windows 2000, XP, 2003 or 2008 Server, Vista, 7, 8
Pentium III - 1 GHz
1 GB RAM
Daminion Server can run on common Windows platforms like Windows XP Standard or Windows 7 Business. It is not necessary to buy an expensive Windows Server.
Some of the Benefits of Daminion
Inexpensive digital asset management solution
A true multi-user asset management system that protects your content from damage, unlike File-Servers based systems
None of the endless monthly fees demanded by hosted solutions. You pay once.
No need to hire a system administrator, and no specialist knowledge necessary to install and administer the Daminion Server.
Much more secure than web-solutions - all your content remains inside your firewall
Restricted access to content by User Roles
Ability to work with huge size media archives (up to 500K-1M files per catalog)
Version Control (Check in/out). Avoid work being redone because you've lost your original versions!
Powered by free, reliable and widely adopted PostgreSQL database engine
Broad media format support
Import more than 100 formats including:
Photos, including camera RAW format, transparent PNG and JPEG 2000
Video, including H.264 codec and MKV format
Adobe formats including PSD, DNG, PDF, InDesign and Illustrator
Limited support for Autodesk DWG and DXF
Audio formats
Full list of supported formats
Quickly classify and retrieve your assets
Super simple and clean interface
Focused on cataloguing (no built-in fancy image editors and publishing tools) with excellent bridge to external photo editors like Adobe Photoshop and Adobe InDesign.
Multiple catalogs (both local and shared) can be opened simultaneously like the pages of modern web-browsers.

Quickly classify and filter your content by tags using AND, OR operations
Supports complex hierarchical tags (keywords, locations, etc.) with no limitation on nesting levels



Using hierarchical tags you can describe your content more precisely and as result spend far less time locating your important files.
Quick, advanced and saved searches with support for AND, OR operations
Metadata
Automatically sync image annotations (tags) with metadata (IPTC/XMP/MWG)
Each tag is mapped into a set of metadata. For example, Place Tag is mapped into eight metadata fields:



During importation, the Place Tag will be filled out from information extracted from the IPTC/XMP.
Daminion can even write metadata into Camera RAW formats, including CR2, NEF, DNG, ARW, MRW, PEF, without creating xmp sidecar files…
Unlike other content organizational tools, Daminion will correctly write/read hierarchical keywords from/to IPTC/XMP. So your hierarchical structure will not lose data when you export or move your files. Learn more about how Daminion supports metadata
Using the Properties panel you can not only see all the media file information but you can also display complex hierarchical tags. Any changes you make can be undone until you click, Save.

Integration with external system
Integration via XMP Metadata is the best way to exchange information between different systems. With XMP, you won't have to depend on different API versions of various other systems. Daminion will read/write metadata in many formats including image, camera RAW, vector, video, audio and PDF files.

Open and edit assets in external applications
Export with optimization on demand
Optimize images for sending by email or publishing on the Web

Optimize and then email images via your favorite email client (with MAPI support) or via your Gmail (or Google Apps) account
Daminion API is available to extend Daminion's export capabilities by developing your own export extension
Daminion is an Inexpensive Digital Asset Management System (DAM). Ideal for Small Teams.