What is Brand Strategy?
Brand strategy is the plan that guides a business in creating, maintaining, and evolving a unique identity in the market. It involves defining the company's core values, target audience, and competitive advantage. A strong brand strategy helps businesses stand out from the crowd and build customer loyalty.
Defining Brand Strategy
Brand strategy is the roadmap that directs a company in establishing, nurturing, and refining its distinct presence in the market. This strategy entails outlining the organization's fundamental principles, target customers, and competitive edge. By crafting a robust brand strategy, businesses can differentiate themselves from competitors and foster customer loyalty, ensuring long-term success.
The Power of a Well-Executed Brand Strategy
A solid brand strategy is indispensable for businesses for several reasons:
It enables companies to distinguish themselves from their competitors, making their brand more memorable and appealing to consumers.
A well-crafted brand strategy cultivates customer loyalty, which leads to repeat business and positive word-of-mouth, further boosting the brand's reputation.
By focusing on the target audience and addressing their needs effectively, businesses can foster a strong connection with customers, ensuring long-term success.
In conclusion, a well-formulated brand strategy is the key to creating a unique and powerful business identity. By concentrating on core values, identifying the target audience, and highlighting competitive advantages, companies can stand out from the competition and build lasting customer relationships.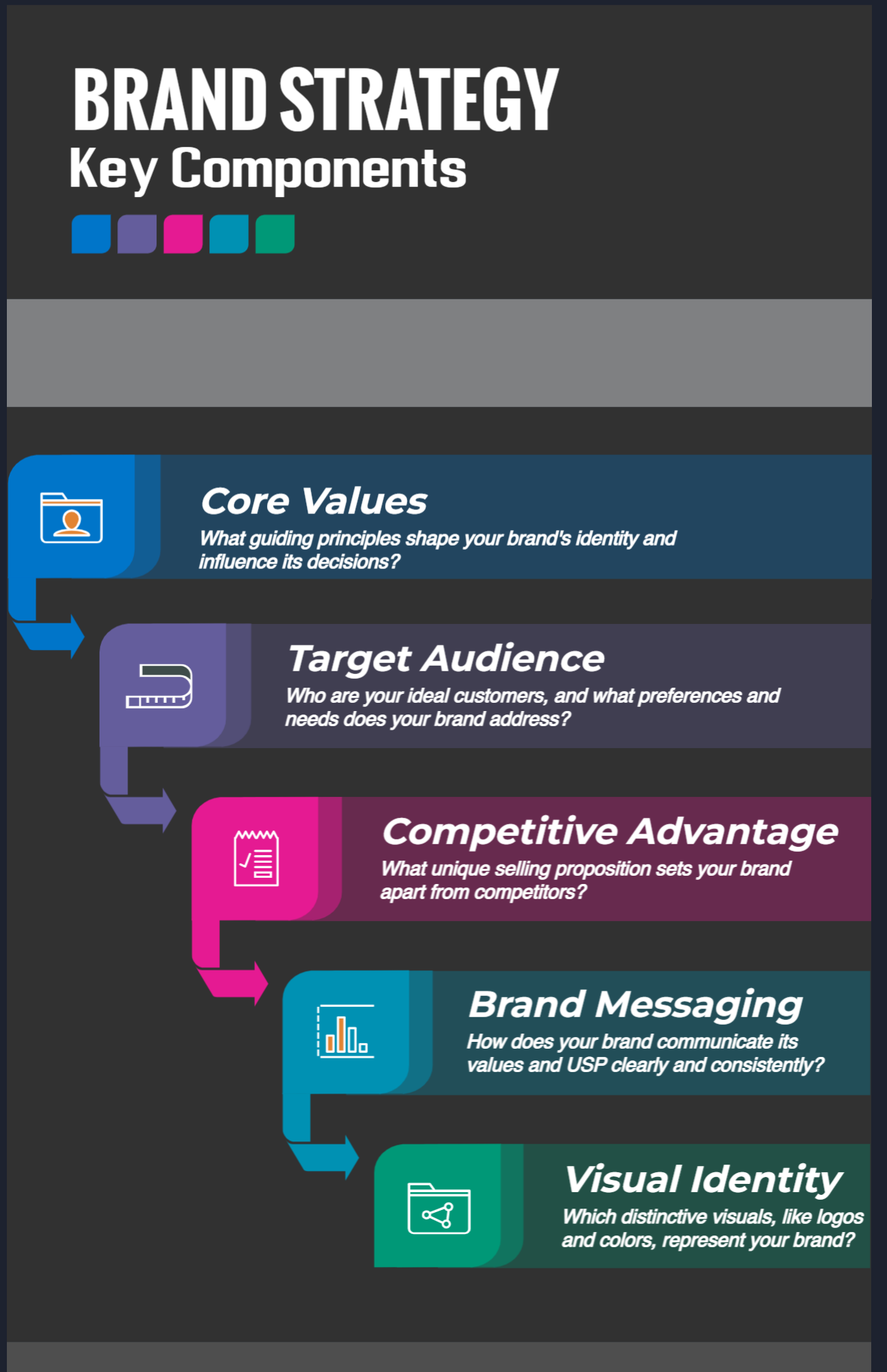 Key Components of a Successful Brand Strategy
1. Core Values
At the heart of a brand strategy lie a company's core values. These principles serve as the foundation for every decision and action taken by the business. They shape the brand's identity and help communicate the company's purpose to customers. For example, Patagonia, an outdoor clothing and gear company, has built its brand strategy around environmental responsibility and sustainability. These core values permeate every aspect of the brand, from product design to marketing campaigns.
2. Target Audience
Identifying the right target audience plays a vital role in a brand strategy. By understanding the preferences, requirements, and challenges faced by prospective customers, businesses can tailor their offerings and communication to meet their needs. In doing so, companies can create a strong connection with their target audience, increasing the chances of long-term loyalty. A prime example is Spotify, which targets music enthusiasts with its personalized playlists, diverse library, and user-friendly interface, ensuring a satisfying listening experience.
3. Competitive Advantage
A successful brand strategy must also emphasize the competitive advantage of a business. This unique selling proposition (USP) sets a company apart from its rivals and gives customers a reason to choose it over others. For instance, Dollar Shave Club's brand strategy revolves around its affordable, high-quality razors and grooming products, which are conveniently delivered to customers' doorsteps. This USP has helped the company carve out a niche in a competitive market.
4. Brand Messaging
A clear and consistent brand message is crucial for a strong brand strategy. This messaging should effectively communicate the company's values and USP, helping customers understand why they should choose the brand. For example, TOMS Shoes' "One for One" message emphasizes its commitment to social responsibility, resonating with consumers who value ethical and sustainable practices.
5. Visual Identity
An appealing and cohesive visual identity is another essential component of a successful brand strategy. This includes the logo, color scheme, typography, and overall design aesthetic. A strong visual identity helps create a memorable impression on customers and supports the brand message. For example, Airbnb's visual identity, with its simple, welcoming logo and vibrant colors, reflects the company's mission to create a sense of belonging for travelers.
6. Customer Experience
Lastly, a great customer experience plays a significant role in a brand strategy. By ensuring that every interaction with the brand is positive, businesses can build a loyal customer base and foster long-term relationships. This encompasses product quality, customer service, and user experience. For instance, Amazon's focus on fast shipping, easy returns, and a seamless shopping experience has made it a go-to choice for online shoppers worldwide.
In conclusion, a comprehensive brand strategy includes core values, target audience, competitive advantage, brand messaging, visual identity, and customer experience. By considering these components, businesses can create a powerful brand that resonates with customers and sets them apart from the competition.
The Importance of Brand Strategy for Businesses
A well-crafted brand strategy is essential for businesses for several reasons:
It helps differentiate a company from competitors, making it more memorable and attractive to consumers.
A strong brand strategy fosters customer loyalty, leading to repeat business and positive word-of-mouth.
By aligning branding efforts with business objectives, companies can ensure that their brand strategy contributes to their overall success.
Successful Brand Strategies: Examples
Several brands have achieved success by employing effective brand strategies:
Coca-Cola: The company's focus on happiness, togetherness, and positive experiences has resonated with consumers for over a century. Its iconic logo, packaging, and advertising campaigns have created a consistent brand image that is easily recognizable worldwide.
Amazon: The e-commerce giant's emphasis on customer-centricity, convenience, and innovation has enabled it to dominate the market. Amazon's brand strategy has helped it expand into new industries and maintain a strong reputation for customer satisfaction.
In Conclusion
In today's competitive business landscape, a strong brand strategy is more important than ever. By understanding their target audience, maintaining consistency in messaging and visuals, and aligning their brand strategy with business objectives, businesses can create a powerful brand that drives success and growth. With well-executed strategies, brands like Apple, Nike, Coca-Cola, and Amazon have become household names and industry leaders.