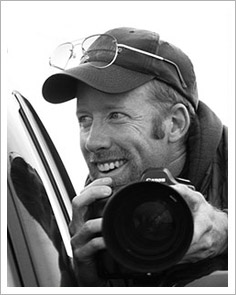 Chip Allen is an architectural photographer who kindly agreed to give an interview for our blog readers.
He reflects his passion for photography in varied subject matter; primarily specializing in Commercial Architectural Photography & Fine Art Photography.
Chip achieved a Bachelor of Science Degree in Business Administration with an emphasis in Marketing. His business background gives him the knowledge & expertise to seamlessly work with his corporate clients; applying his skills to listen, problem solve, & generate creative insight to best market their specific product or service.
Past experience in sales, marketing, and customer service provide Chip the opportunity to support & contribute to his clients with innovative ideas to meet their specific aspirations & objectives. You can reach him through his Web site, http://chipallenphotography.com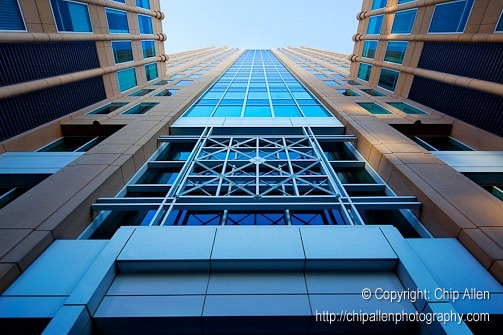 Copying or reproduction of this image is prohibited
How did you get started in photography? What made you decide to go in for architecture photography in particular?
My dad tried his hand at being a team sports photographer when he was in his 20's. It never panned out for him, but he is the one who put his old 35mm in my hand. When I was 15 and vacationing in Yosemite he handed it to me and said 'give it a whirl kid'. I spent the next 14 years playing with the camera and becoming an amateur photographer.
After a achieving a degree in Business Administration and Marketing, I worked in a corporate sales and service environment for 5 years. I realized that I wanted to pursue a career that I was truly passionate about. Photography had remained a steady hobby over the years.
During those years many friends and family had encouraged me to pursue photography professionally. Making a living as an "artist" seemed challenging. However, as I pursued my hobby as usual, I began to think more and more about photography as a viable option. That's when I saw a theme emerging in my images, I seemed to be attracted to linear objects; shapes, textures, natural gradients, reflections, and specifically architecture. Combining my business education & background, Commercial and Architectural Photography seemed to be the perfect niche for me.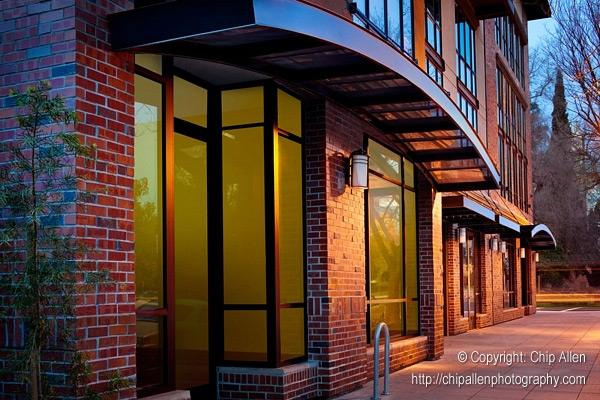 Copying or reproduction of this image is prohibited
What special skills and equipment would you consider essential when photographing architecture? What would your advice be to anyone thinking about taking up architecture photography?
Do ANYTHING you can to make your photos say "WOW!". Take a medium that is 2D (photography) and give the viewer depth queues that draw the viewer into the story-understand in composing, what to exclude just as much as what to include in an image. As far as essential gear goes, the neatest thing since sliced bread is a tilt/shift lens. You really don't know what you're missing until you spend time with these things. If you're
serious about architecture this is quintessential.
If someone wants to start up one's own Architectural Photography practice get out and start pounding the pavement. Not just cyber pavement but making real connections, "handshakes" in their own physical business community. Just because you make pretty images does not mean business will just flow in. If you love what you do you have to work at it everyday. The alternative is working for someone else- NO THANK YOU.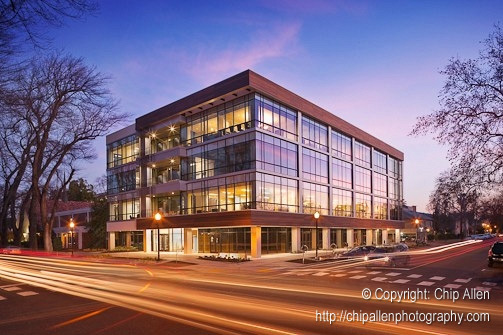 Copying or reproduction of this image is prohibited
Chip, I see beautiful photos in your portfolio that were taken in the late evening. I guess it adds some complexity to your photo process: selection of the right combination of time to shoot, weather conditions, exposure, and probably some extra steps to post-process the images like HDR, etc.. What are the major differences/difficulties of shooting such night shots?
Thanks for that! Most clients really like seeing their building at that magic hour. But your right it does take time and thought to visualize the best vantage of the building ahead of time, checking the weather, & getting the additional lights in place. But you only have a very small window of time to get the timing right at dusk or dawn, especially if you want the job to be profitable and people to ask you back. However, sometimes the dusk shots actually turn into dawn shots- that look like "dusk" shots.
Meaning for a bunch of varied reasons the strength of that one main elevationshot dictates that I'm on site way before sunrise getting everything set into place & coordinated. In which case the waking up early can be the difficult part!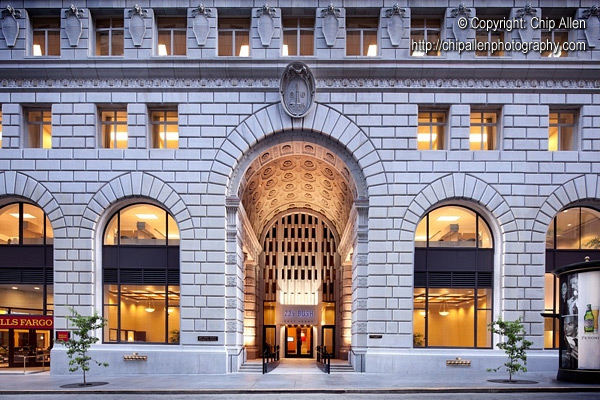 Copying or reproduction of this image is prohibited
What are the most exciting and challenging architecture photography projects you've been involved in?
One of the greatest things about my profession is my client's trust in me. Getting to go behind the scenes to get the shots. See and have access to areas where most people cannot go. Tall rooftops at dusk are awesome! Talking to the minds behind the design and then talking to the people who use that architecture on a daily basis gets me excited about the job!
Some of my most challenging shoots have not been that glamorous or sexy but more so, simply obscure. For example, I had the opportunity to photograph architecture at a Giraffe Exhibit at the City Zoo in Sacramento, CA! Architecture incorporating giraffes, this was a challenging project due to variables of which I had no control over. Well, for one, the giraffes may or may not be in the right position and they weren't very responsive in my attempt to 'direct' them. Restricted access from what would have been key angles, limited to the middle of the day and the sun's reflections at that time, combined with a leery zoo staff watching your every move…there were a few obstacles to overcome. But it really was a fun experience and the images turned out great.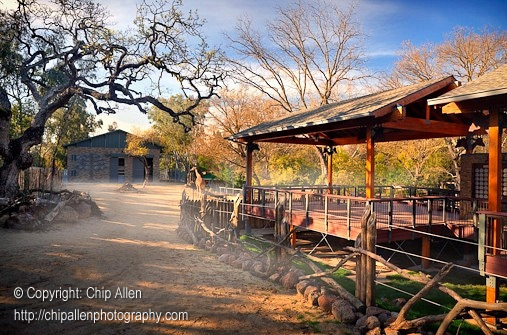 Copying or reproduction of this image is prohibited
Which new pieces of architecture would you most like to photograph (either in your own country or internationally)?
I think I would like to spend some time in China photographing the growth and design there. Some of the structures put up for the Olympics were jaw dropping and I know more are on the way. Also, Saudi Arabia for
simply making my head spin at all the cool buildings scraping the sky there. Too many buildings and only so little time to photograph them!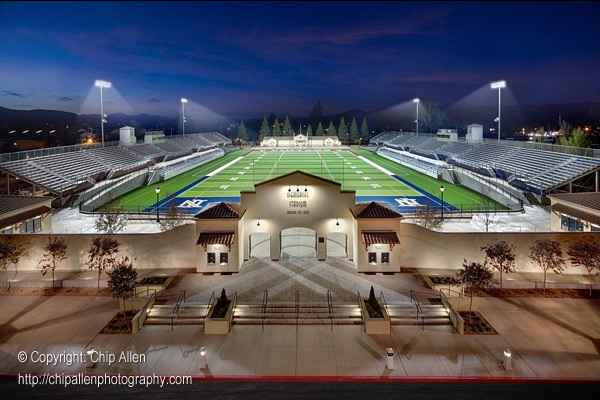 Copying or reproduction of this image is prohibited
A list of extra questions
Where were you born?
Oakland, CA
How many years have you been involved in photography – and in architecture photography in particular?
19 years in photography. Professional Architecture Photography for 5 years.
Who are your favorite photographers?
Charles Cramer Landscape Photographer and Master Print Maker. And Vance Fox for impeccably clean & composed Architectural Images.
What do you think you would be doing now if you weren't a photographer?
I would be in the Outdoor Leadership & Recreation Industry.
What do you enjoy most about being a photographer?
I get to creatively problem solve for a living.
Is there anything you dislike about being a photographer?
I'm a pretty social person, so the "behind the scenes" time; post production, marketing, management, all of the aspects to run the small business can lead to pretty quiet days in the office.
Getting started with Daminion
Are your corporate digital assets still disorganized or you want to check this? Request a demo and get all your questions answered with one of our resident customer champions.