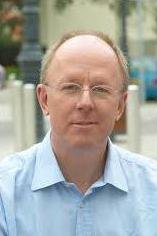 Paris-based, Swedish wine photographer and businessman Per Karlsson gave up a promising career as a top manager with an international corporation in order to follow his passion for photography and the wine travel business.
The photography, which started out as one of many other activities involved in promoting the wine travel business, has grown to such an extent that today Per has one of the largest collections of wine photography in the world.
Per's photographic work has appeared in many leading wine publications including Decanter, the Wine Spectator and the Wine Companion. What's more, he and his wife both write about wine in their own online publication, BKWine Magazine, and are regular contributors to Forbes' wine-related column. They have also published five award-winning books on wine. And, needless to say, the photos that illustrate their articles and books are all taken by Per.
You can reach Per on his web-sites:
Photography | Wine Tours | BKWine Magazine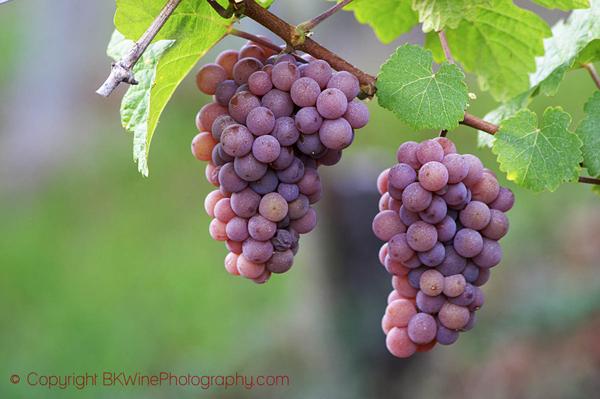 Turckheim, Alsace, France
Per, could you please tell us how you got started in photography? And, what made you decide to go in for wine photography in particular?
Already as a teenager I started taking pictures. What started it I don't really know. In high-school I took quite a lot of pictures and I did all the processing and enlargement myself. I had made a makeshift darkroom in the basement of my parents' house. Part of it was probably the chemistry in it. But I have always been a visually oriented person. I like pictures.
Then I went to university and started working in consulting and in business. I hardly touched a camera for many years. We lived close to a second-hand camera shop and one day I went in and bought a "new" used lens and started taking pictures again. But it took quite a while before it became a profession.
That it is wine (and travel and gastronomy) photography today is because it ties in with the rest of our business. We do many different things but it all has to do with wine, travel and gastronomy. That's really how it took off again after having been dormant many years. And of course also because it is a very enjoyable niche. Often I get to enjoy the nice things I photograph, which is not always the case in other niches, say for example wedding photography…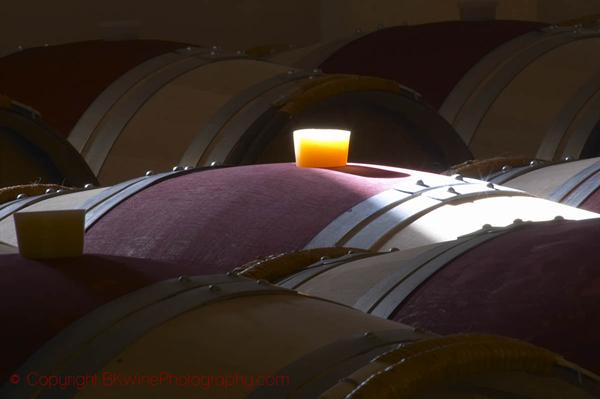 Oak barrel aging and fermentation cellar
Your life looks ideal – lots of travel, wine, and photography. Was it a difficult decision to leave a successful career in the technology industry to set up your own business based around your passion for wine?
No, it wasn't really difficult at all because it wasn't really a decision in an instance. It was something that came gradually, starting this current business around wine that I run together with my wife. My wife was already doing much of what we do today, organizing wine tours, writing about wine and teaching. I started helping her on the side. After some time we said that perhaps we should start it as a "proper" business together and make our living from it, and we did. By then we had already worked together on it for quite some time, so by then it was easy.
I don't think I would have done it as a snap decision one day in the office in the job in my "previous" life.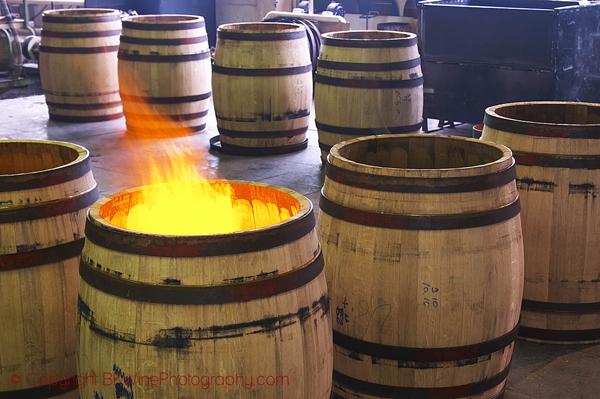 Burning toasting the barrel with fire
It's very impressive that your photos (as well as articles written by you and Britt) are published in famous magazines like Forbes. In this regard, I'd like to ask: how do you, as a photographer, define success? And when did you first realized you were successful?
That's a difficult question. To some extent it is very personal. I am satisfied when I think that a picture is good. Then it is a successful picture. That doesn't necessarily mean that it will sell though. (To a large extent it is a mystery why some pictures sell! People buy the strangest images.)
Hearing people say that they like my images is also a big boost. In a way it is perhaps more important. It is easy to think that the pictures you make are nothing special. To think, anyone would take just as good a picture if they had just been there. But when you hear what people say you realise that it is not necessarily so simple. That perhaps you are actually quite good at it.
But it is of course also very important that the pictures have some kind of commercial success. It is a business, fundamentally. That shows that they have a value that is not only personal. That they've been published in Decanter, Wine Spectator, The Wine Companion etc, and also many "general purpose" publications. Actually, one of my very first customers (thanks to the internet) was The International Herald Tribune. When they contacted me and wanted to license an image I thought that, well, perhaps the pictures that I make can be pretty good sometimes.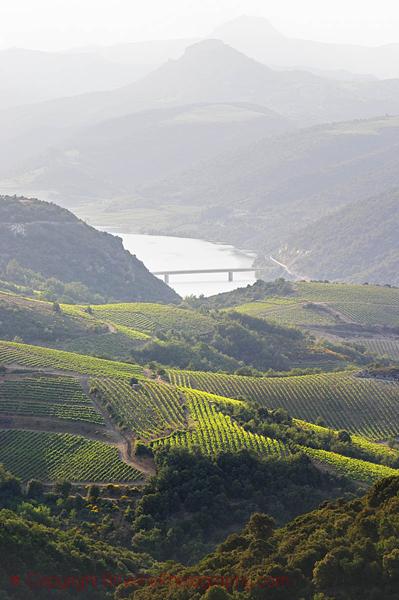 Caramany, Ariege, Roussillon, France
What equipment and services do you use?
I've always used Canon. I am sure though that other brands are just as good. I'm not a brand believer. But I have invested in Canon lenses (and bodies) and it would be expensive to change. It's the lenses that count!
I don't really have a lot of equipment, since I mostly carry all of it with me, when travelling to take pictures.
More specifically: My main camera is a Canon 5D mk II. Lenses: mainly L-series. It does make a big difference, the quality of the lens. 70-200 4.8 IS II, 16-35 L II, 24-105 L. Two tele-extenders (not much used though). I also have a Samyang 8 mm 3.5 fish-eye that is a lot of fun for some specific type of pictures. Very cheap and quite good quality actually.
Very important is also the tripod, a Manfrotto 055 carbon fibre. Although it is carbon fibre it is heavy to carry around, but oh so vital in some situations. I do a lot of low-light photography, for example in wine cellars…
Also important is the software. I really don't do much manipulation in the computer but the quality of the software that you use has a big impact, both for the quality of the result and for the speed and the workflow. I always shoot RAW by the way.
I use Phase One Capture One to process the images which is a fantastic piece of software. I thoroughly recommend it! It takes quite some time to understand it but once you do it is very fast to work with and produces fantastic results. I do use Photoshop a bit but not much. Today I can do almost (but not quite) all I need in Capture One.
And for DAM I use several tools. My "old" DAM is Extensis Portfolio, but that's a dead piece of software today. As you know, I also use Daminion. I am experimenting with different DAMs for the future and Daminion is certainly one of the lead contenders.
For my online presence I use Photoshelter that I have integrated with a classic WordPress site. Photoshelter is a fantastic service, but I wanted to do a bit more than what one can do with their tool so I built a WordPress site around a Photoshelter archive.
A final thing I should perhaps mention is the grey-card. I've use WhiBal and now Squadra TrueColors. It is a cheap little thing but it can be really helpful in some lighting situations.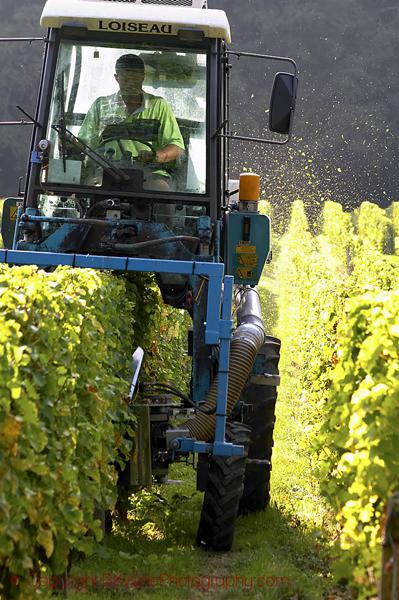 Trimming leaves and branches off the vines
Are there any weather conditions or particular times of the day that you prefer when shooting indoors and outdoors?
Nothing surprising for the outdoor I guess. Morning and evening is nicest. But I rarely have the freedom to choose the time of day when I shoot so I have to adapt to whatever time, and weather (!), it is.
Indoor, well, it's not so important. I quite like shooting in low light in cellars. Many have actually very beautiful lighting, although you have to be careful with the white balance (not a problem if you use Phase One Capture One).
What are the most exciting and challenging photo projects you've been involved in?
I actually do very little assignments so the projects I do are essentially my own. I have done four books. Doing books is interesting, especially since our books are of a kind where the pictures have to fulfil two purposes: they have to be attractive but in many cases they also have to illustrate specific things, sometimes quite techinical. The best example of that is perhaps the book we did on organic wines . There's a lot of technical stuff in that book that needed to be nicely illustrated.
So in a way, perhaps one of the most challenging things is just this, how to make pictures that are both "beautiful" (in some sense) and informative. How do you make a wine cellar filter look nice? Or a row of stainless steel tanks? Fermenting grapes? You can, at least sometimes.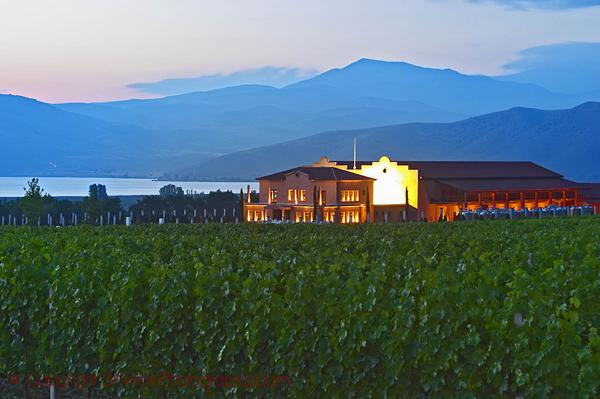 Amyndeon, Macedonia, Greece
I know photography is not the only activity in your life – and probably not even the main one. What proportion of your time is taken up by photography, compared to your other interests like wine, travel, journalism and education?
It is all intermingled actually. One thing is for sure, I don't spend enough time on photography. I have great difficulties keeping up with processing the images and cataloguing and keywording them. I have a terrible backlog on that.
A big part of my time is travelling to different wine regions. Mainly for the purpose of our tour operator business (specialised in wine tours). But when I do that much of my time is spent photographing.
But I would like to be able to spend more time on the photography! I would need a marketing assistant and a web editor to free up some time…
Do you find there are times when shooting becomes boring and routine? And, if so, can you explain why?
No, not really. Since I practically don't do assignments or commissions I shoot when and what I want. So if a situation is "boring" in some ways (say I'm at a winery where I've been many times before) I can just focus on other things, for example taking notes for an article. Or trying to find an angle I haven't seen before.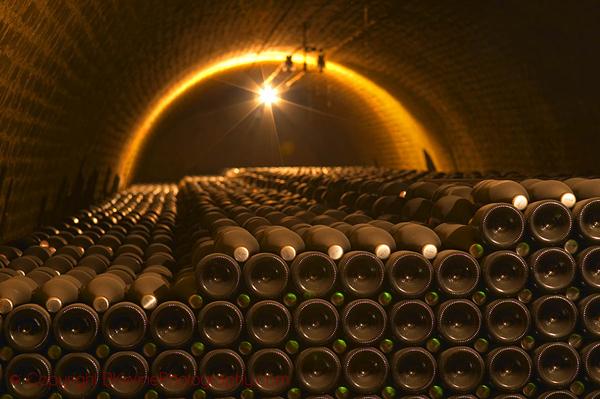 Champagne bottles stacked in an underground vaulted cellar
What gives you the most income: selling photos online through BKWinePhotography.com or taking new photos on a project basis?
As I mentioned, I don't do commissions.
I work with two agencies, one in the UK and one in the US. They provide a steady, but small, stream of income. I do wish I had more time to market my images myself. One of the advantages I have is that I am on a very specific niche, so it is easy to identify the customer segment, but I just don't have enough time to market effectively to them. I could no doubt substantially increase my direct sales if I just had the resources to market it better.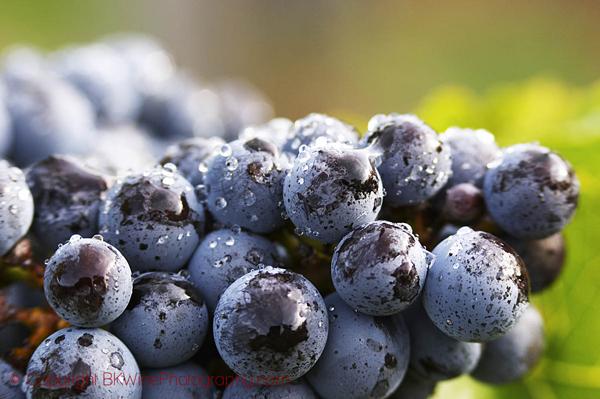 Bunches of ripe grapes
How do most of your photography clients find you? And, if you could suggest just one marketing tool to someone relatively new to photography, what would it be?
The two most important sources of new business are my online presence and personal contacts, people I happen to meet.
The one thing I'd say any photographer needs is a good web site. I think it will become more and more important to market yourself. And if you also are able to sell directly online it is an advantage. But it is also very important to remember that just having a web site won't give you much business. You also have to actively market yourself.
I use Photoshelter for my online archive. I can absolutely recommend them.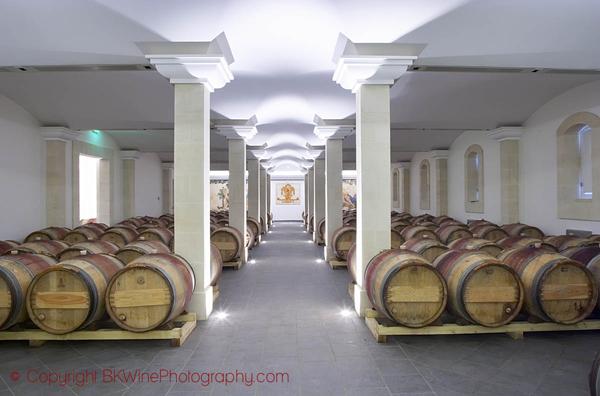 Chateau Nenin, Pomerol, Bordeaux, France
Does your past experience in marketing and business development help you to market your company and your services?
Yes, most definitely. For example, I used to be in charge of the international marketing of a big technology company with a responsibility over, for example, products and marketing strategy. Running a small business you need to do the same things, decide what kind of product you have, what market segment you want to be in, what strategy to have to reach clients etc. It's just on a different scale and you have to do it all yourself.
When did you come to the conclusion that you needed a DAM solution to organize your image library?
That was very early on. I like having things organised. There is no way that you can keep track of your archive when it goes beyond a few thousand images without a DAM (although some people manage with a pseudo-DAM).
Organising your images (cataloguing, keywording etc) is one of the biggest challenges in this business in my opinion. This is also the sine qua non to be able to sell stock effectively.
Of course perhaps it depends on what kind of photography you do. I mainly do stock photography which means that I deal with fairly large numbers of images. They also have to be easy to find, based on all sorts of unpredictable requests, so keywording (or "tagging") is extremely important.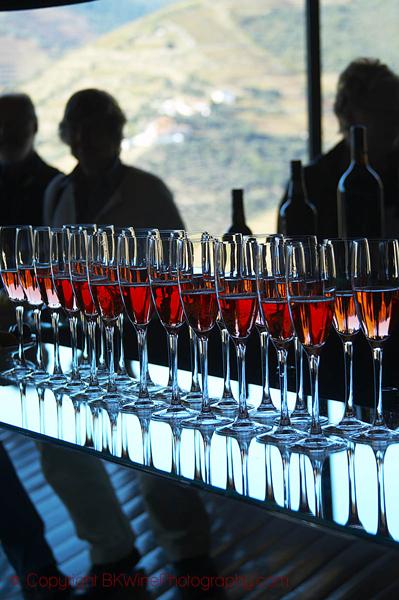 Sandeman,Douro, Portugal
How many images are there in your wine-photography collection? (Hint: with Daminion, you can find this out very quickly 🙂
130,000 images. No hint needed. 😉
What do you enjoy most about being a photographer?
The opportunities it gives me to travel to fantastic places and to meet people. And that it gives me a way to share that, at least to some extent, with a lot of other people.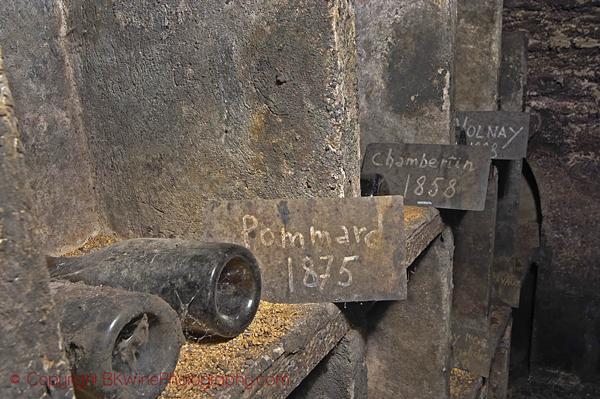 Bottles aging in the cellar
Is there anything you dislike about being a photographer?
The frustration of never having enough time to do all you want to do. The post-processing (time consuming but not really boring), cataloguing and organising (absolutely necessary, but both very time consuming and rather boring), marketing etc.
And a last question. If, like me, you wanted to spend your old age in a small villa with a vineyard, where on Earth would it be?
In the south of France (but not the Riviera) with a beautiful view and a good food market nearby.