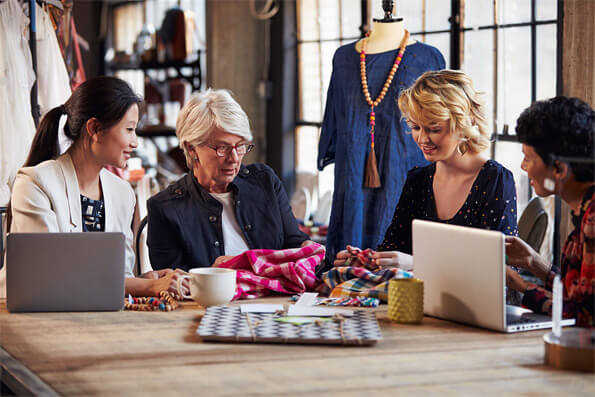 Four Fashion Designers In Meeting Discussing Textiles
With so much content being created and updated daily, it can be difficult to access the work that has been developed over the years and to track where it has been sold or who owns it.
Studios designing fabric, flooring, wall covering, or any other surface often encounter the same challenges. Patterns are purchased, altered and developed into many different color ways. Coordinating designs are created to complete a story.
Some teams will post these patterns on a wall to see and work with their library, while others organize them by pattern type on a network. But not every design or color way will fit on a wall, and not everyone will remember the name of a particular coordinating pattern on the network.
Inevitably, valuable design time is used to create artwork that may never be seen again, unless the entire department can quickly and easily locate the work.
Daminion is a simple but robust digital asset management system (DAM) that addresses these and other problems. Moreover, all team members can see visual thumbnails of the library of designs.
Easily Search Your Design Library
Do you remember the amazing texture your team developed to go with the floral last week? How many color ways were created for that wood grain a few months ago? What about the novelty line the team designed last year?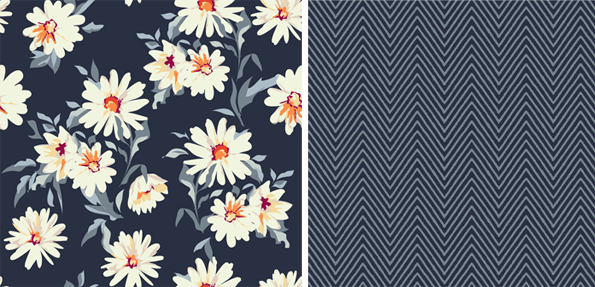 Daminion provides efficient ways to visually search and access an entire library of designs. Files are displayed in thumbnail view so a designer can immediately identify a pattern.
Click on a thumbnail to get information such as how it is tagged and where it is located on the network. Clicking on a link will take you directly to the file location. Visually searching for files saves time and allows your team to focus on designing.
Custom categories and keywords can be created to tag files for future searches. Categories for a surface design studio may include Floral, Texture, and Natural Material. Keywords may include Painted, Graphic, or Realistic. Once all the files have been tagged, a search can be narrowed to specifically view a category such as "Graphic Floral" patterns. You may discover patterns you haven't seen in years.
Trademarks and Copyright Control
Maintaining copyright integrity with client's artwork is essential. Once the artwork has been tagged, simply customize the thumbnail view and include copyright information to so the team can instantly see the owner of the design when searching the library.
This will also allow designers to quickly and easily see all artwork submitted by a client, improving work flow efficiency throughout the day.
Collaborative Teamwork
DAM systems make project meetings more productive, thus decreasing the total amount of time designers spend in meetings.
Hand-in-hand with more efficient meetings, Daminion fosters collaborative teamwork by enabling individuals to select several designs from the library and add them to a shared Collection.
The Collection can be viewed from each designer's workstation, and everyone can contribute. For example, if the team is working on a coastal line, each member can add designs directly from their own computer for review and discussion.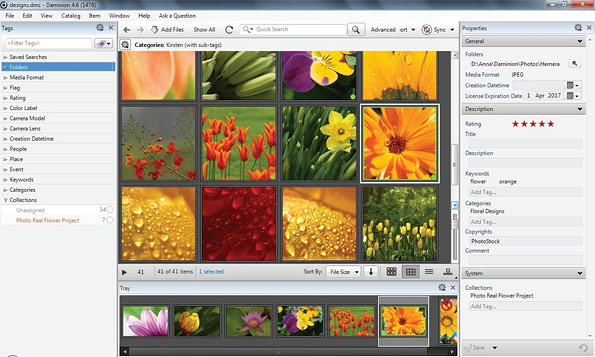 With a vast archive of work, it is important to know which designs have been sold to each customer. This can aid in understanding a client's preferences and preventing the same or similar artwork from being used for another customer.
With DAM systems, all team members can easily track which artwork has been shown to a customer, what has been purchased and when.
Every day, designers spend minutes or hours searching for designs or recreating misplaced work. Design time and artwork is an investment that can be maximized with Daminion Software.
The capability to efficiently access a complete design library and understand the journey of each pattern cuts inefficiencies and stimulates productivity among design departments.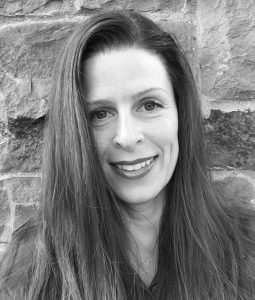 About the Author
Kirsten Barnds was a Director of Design at America's leading manufacturer of outdoor cushions.
She is passionate about trend, color and design. Years ago, she went to school for fashion design. As one thing led to another, she transitioned into the wonderful world of surface design using her talents to create beautiful and salable wall coverings, flooring and printed textiles for home and commercial markets.
Kirsten has a lot of experience organizing design files and the challenges associated with it. As Director of Design, she implemented Daminion into her studio's workflow with great success.
[cta-block]