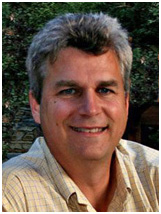 Scott DuBose is a real estate photographer and marketing professional who produces images for real estate firms, interior designers and stagers.
Raised in South Carolina, he holds an electrical engineering degree from Clemson University.
Scott is a member of Real Estate Photographers of America.
You can reach Scott on his web-site: http://scottdphotos.com.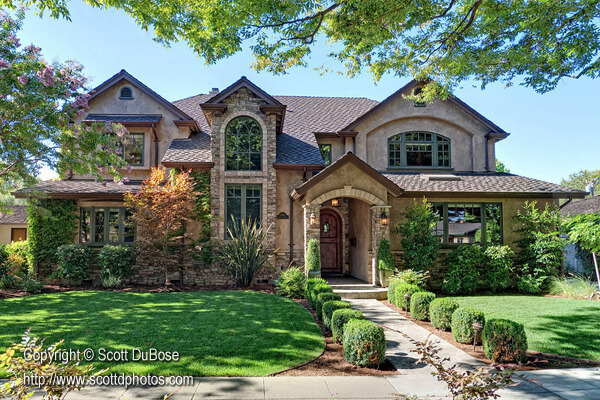 Copying or reproduction of this image is prohibited
Scott, how did you get started in photography? What made you decide to go in for architecture photography in particular?
I've loved the idea of producing photographs for most of my life. When I was very young I remember being jealous of a friend taking pictures with his parents' camera which seems to me to have been a Kodak Brownie… this was probably in the late 60's. My mother set an example as the photographer of the family; I appreciate the memories she has produced with a camera. I dabbled in film photography for years but was not always happy with the results. Then came the computer, I enjoyed scanning film and slides and experimenting with Photoshop. I consider those years as practice for what I do now.
I have an engineering degree and love using technology. Aside from the creative aspects, I believe the technical requirements of architectural photography are what draw me. Architectural photography requires precision and a methodical approach not required by some forms of photography.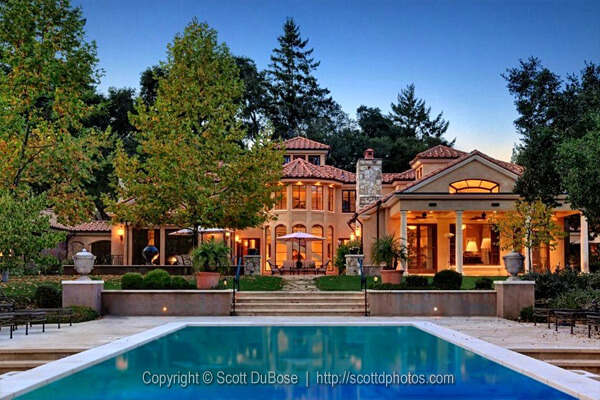 Copying or reproduction of this image is prohibited
This photo of yours (above) got you voted January's Photographer of the Month by photographyforrealestate.net. Could you tell us a little bit about this project?
This is a very nice (obviously) home in Woodside, California… some people assume it's a hotel but it's a large private home comprised of three main buildings. While shooting the interiors, the agent explained he wanted a photo of the pool and main home… when we walked outside, this was the composition that just screamed to be shot.
The base image is comprised of bracketed exposures, blended with Photomatix, and improved to ensure color accuracy, levels, and saturation. There is significant Photoshopping on the pool and less extensive PS work on the sky. The pool was covered by an inoperable ripped pool cover so I replaced the water and added the reflection. The sky is from one of my stock skies which I use in cases just like this, when the actual sky was just a bit "flat."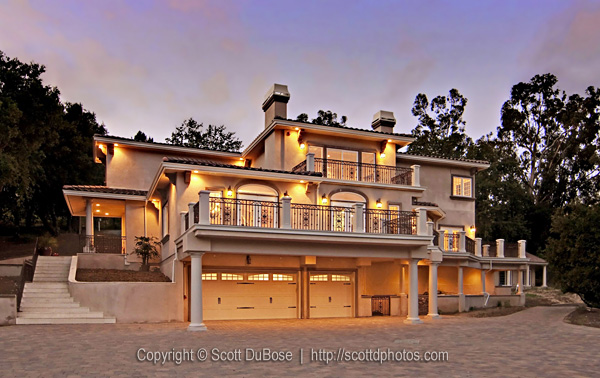 Copying or reproduction of this image is prohibited
The largest issue for me when I shoot people indoors is the lacks of aperture on my entry-level Canon 400D camera. How do you manage to shoot a room filled with light and get such vivid pictures? What equipment and post production techniques do you use?
I believe the camera body is secondary; it's the lens that is the critical component. You can probably take some excellent images of people with a Canon 400D and a f/1.8 or f/1.4 prime or zoom lens. Of course a camera with a full frame sensor is preferred over a crop-sensor camera, but the glass (lens) should be of primary importance.
The equipment I use most frequently includes a Nikon D300s and Tokina f/2.8 wide zoom. I chose the Nikon in part due to its ability to bracket up to nine frames at 1EV spacing, important for the exposure blending. For real estate I shoot JPEG only, and for high end shoots I shoot RAW and process in Lightroom and Photoshop. An important Photoshop plugin is Nik Color Efex Pro which I use to fine tune color and tonal contrast.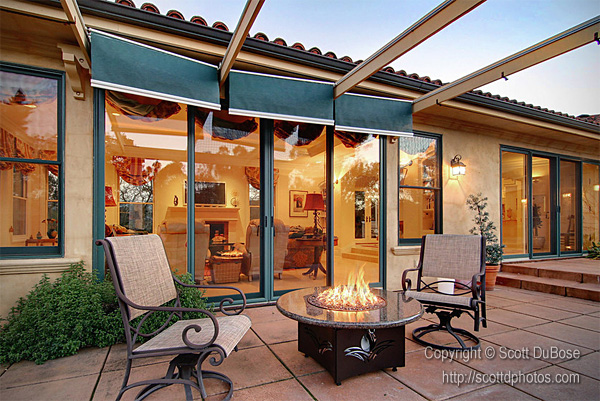 Copying or reproduction of this image is prohibited
When did you decide to use HDR for your photographs? How does using HDR reflect on the final price?
HDRI (high dynamic range imaging) is something I found only within the past five years. Actually I don't do much true HDR (tone mapping), most of my exposure blending is done through a process called exposure fusion. My experiments with HDR were less than ideal, looking over-processed which is why I moved to exposure fusion. Architecture and real estate photography requires a realistic, natural look so as not to misrepresent the subject.
I use Photomatix' exposure fusion mode which, when set properly, helps create realistic looking images. I do charge more for HDR real estate shoots since it really improves the image quality and helps create more attractive real estate photos.
At this point I should explain HDR/exposure blending is just one of the tools in my bag. Different projects require different skills to produce images for the client, the key is knowing what tools to use in which situations.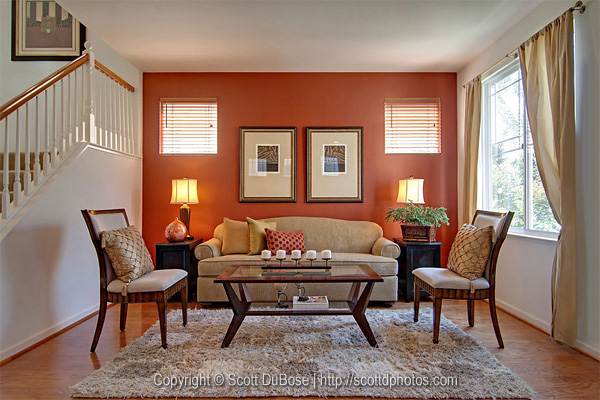 Copying or reproduction of this image is prohibited
How do you choose the final images for clients who order interior/exterior shots? And how many shots would you normally take on an average architectural photo session?
I work quickly on site if I'm alone, choosing what I feel are the best compositions to show the space, especially connecting spaces to give the rooms a context within the home. I shot close to 400 homes for real estate clients last year, so I pretty much know what angles work for that market. Most real estate clients want wide shots to show the space and help the rooms appear larger than they may actually be.
If I'm shooting for a stager or remodeler or architect, the shoot is done with clients on-site and we take time to discuss compositions, and view shots with the camera tethered to my laptop. A standard real estate shoot is comprised of 15-20 images shot and processed relatively quickly, while the higher end shoots include maybe 10 images with more time spent in post-processing to ensure quality.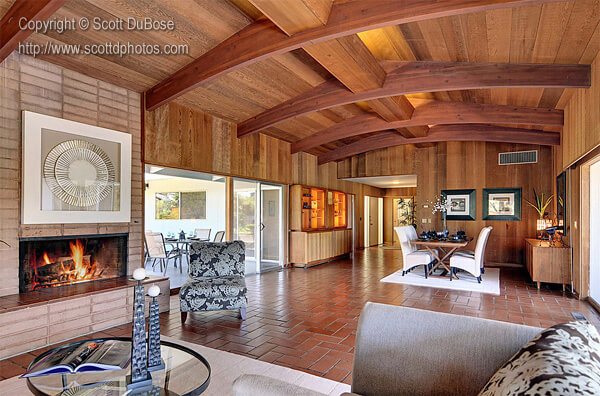 Copying or reproduction of this image is prohibited
Are there any weather conditions or particular times of the day that you prefer when shooting interiors and/or exteriors?
I live in the San Francisco Bay Area so weather is usually pretty boring… meaning great for property photography. I prefer just about any weather as long as it's not raining on my equipment. Most of my work is done during daylight hours although I do enjoy shooting twilight exteriors.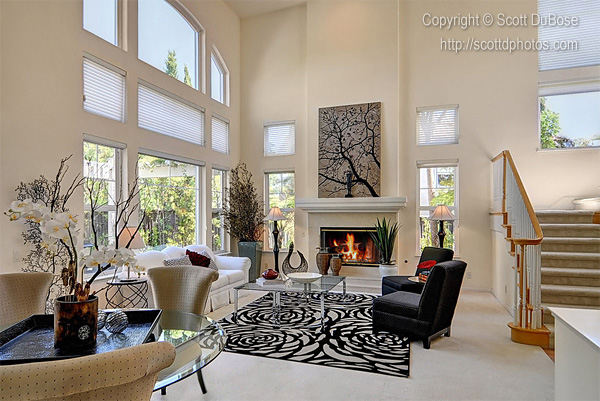 Copying or reproduction of this image is prohibited
Which factors impact on the pricing?
My pricing I quote depends on the market for the photographs, image quality/quantity, and the intended usage.
What, in your opinion, are the major benefits of specializing in architectural photography as opposed to other more general forms of photography? Apart from economizing on renting or investing in a studio 😉
I get to work in the most beautiful homes in a beautiful part of the world. After the shoot I work from home, have fairly flexible hours, and there is a seemingly unquenchable need for quality photos to help sell homes or sell home services.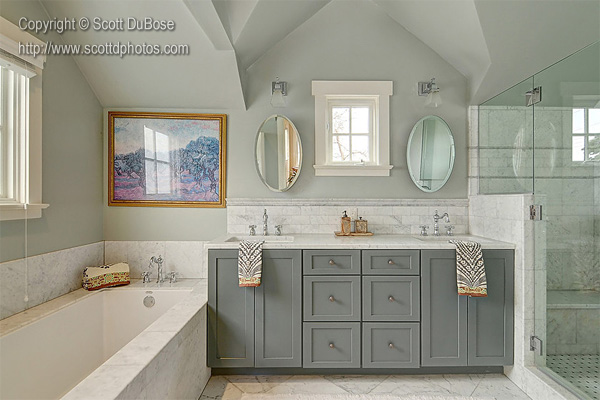 Copying or reproduction of this image is prohibited
Our company has developed a multi-user photo management software system called the Daminion, so I must declare a personal interest in your answers to the next set of questions:
1. How many photos have you collected since …when did you start your professional activity?… 2. How big is your media archive and how do you organize your photos?
Right now over 100,000.
My archive is several terabytes in size right now, growing all the time. My archiving method is very simple but which works for me, I archive photos in named folders including client name and project name.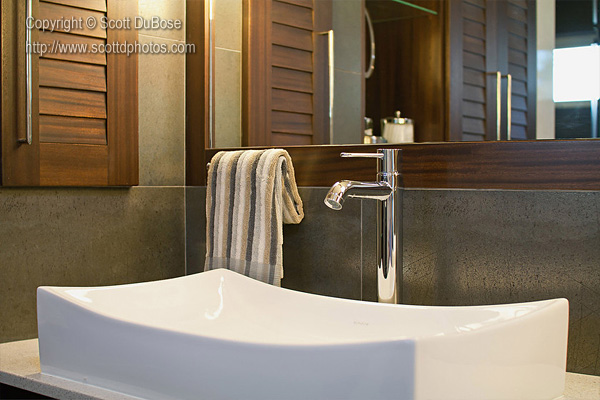 Copying or reproduction of this image is prohibited
You recently created something called the Cisco Telepresence Virtual Tour. Could you please tell us what the Virtual Tour is, and explain what advantages it has – for real estate sellers – over ordering quality photographs?
That was a job I did for Cisco to promote their Telepresence Suites which provide videoconferencing services. A virtual tour is a photographic presentation usually intended for online viewing; basically an online slide show. In the case of the Cisco tour, I created 360 degree panoramas presented in a format that allows the viewer to move the image around and view the conference rooms in high detail.
Virtual tours comprised of still photos and panoramas allow home buyers to preview the look of homes, to help narrow their choices prior to visiting the home in person. It saves home buyers a significant amount of time in the home buying process. My still photos are used in traditional ways as well, on home brochures for example. Virtual tours simply repackage the photos for viewing online. I will say panoramas are less popular than they were five or ten years ago while quality still photos can be used in more ways.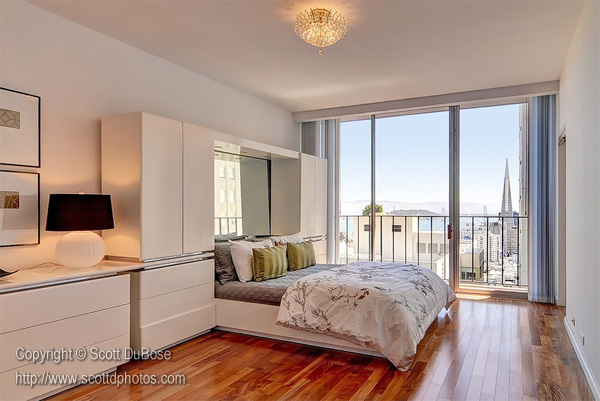 Copying or reproduction of this image is prohibited
Does your past experience as an account manager help you with marketing your company and your services?
It does… my past experiences have helped in promoting my services, in understanding how to connect with clients' needs and in molding my services to meet those needs.
What are the most exciting and challenging architecture photography projects you've been involved in?
The most exciting and challenging projects are always ones being done for new clients. There is usually a healthy nervous tension as many times it's challenging for the client to communicate their wishes in a way that translates into a visual language. There's a bit of a creative dance as we share ideas and make the images.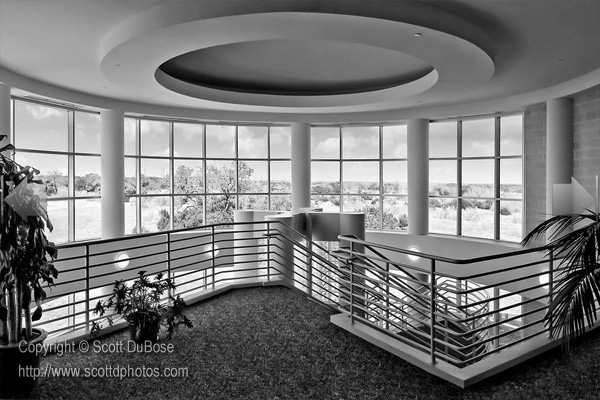 Copying or reproduction of this image is prohibited
Are there any new pieces of architecture you would really like to photograph (either in your own country or internationally)?
Nothing in particular although I would love to shoot new modern architecture. Having said that, old church architecture intrigues me, so centuries-old churches both large and small would be interesting to shoot.
A list of extra questions
Where were you born?
I was born and raised in South Carolina, moving to California in 1982 after college.
How many years have you been involved in photography – and in architecture photography in particular?
I found architectural photography only about 10 years ago, shooting real estate virtual tours with a 4Mpixel camera and a homemade rotating panoramic tripod head.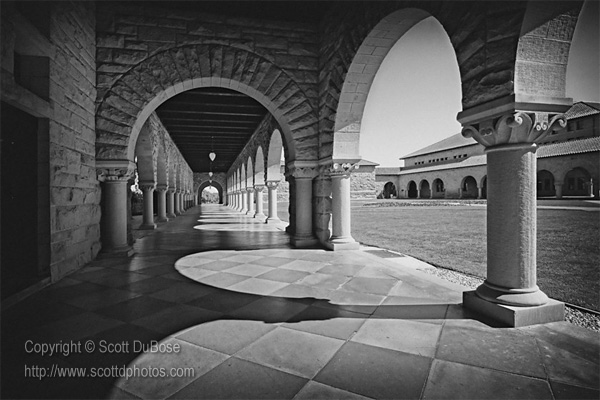 Copying or reproduction of this image is prohibited
Who are your favorite photographers?
I have to say Julius Shulman and Ansel Adams, and contemporary photographers who have produced wonderful images consistently for a long time. Too many to name, and the Internet helps me discover new (to me) photographers all the time. The five fabulous photographers you've interviewed so far on dpreview.com are great inspirations.
What do you think you would be doing now if you weren't a photographer?
I would be a marketing manager, likely in high tech… which was my career for 20 years before becoming a professional photographer. I would love to get paid photographing musicians.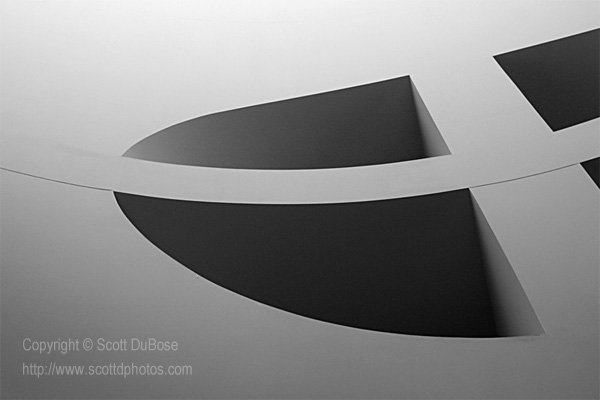 Copying or reproduction of this image is prohibited
What do you enjoy most about being a photographer?
The creative aspects… finding the perfect composition others may have overlooked. Finding ways to use software tools to produce better images. Getting glowing comments about my photos.
Is there anything you dislike about being a photographer?
So far I haven't found much I dislike about photography except maybe the cost of equipment.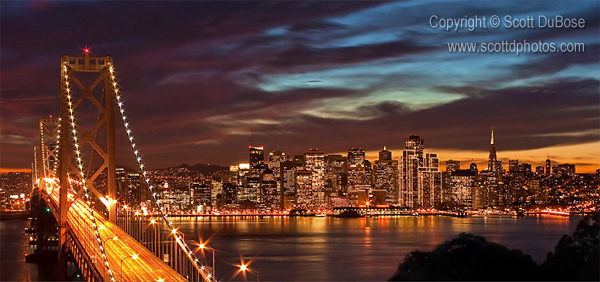 Copying or reproduction of this image is prohibited