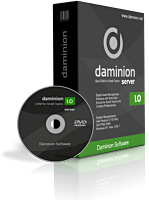 After 3 years of hard work, the Daminion Server is at last available for public download.
First of all, a big thank you to our team of active testers; not only for their sterling efforts in testing out Daminion Server so enthusiastically over the last 3 months, but also for supplying us with their invaluable feedback.
Daminion Server: server-based photo management software for small teams.
Unlike standalone image and video management applications that allow a media archive database to be shared via shared network folders, Daminion Server is a TRUE multi-user photo archive server. It has been specially designed for use by small teams, with limited budgets, in need of a simple, fast and reliable solution to managing their growing media archives.
It allows multiple users to search, annotate, and edit the same content across a local network without the risk of damaging content as a result of simultaneous access and revisions.
All changes to content are visible to other users in your local network without the need to restart the application
Version control has facilitated seamless teamwork and collaboration of media content. You can track authorship and changes to all your documents
The speed of annotating, search and metadata syncing is up to 10 times faster than pseudo-multi-user solutions
Super-simple user interface that allows you to work with multiple catalogs simultaneously – shared and local
Additional features planned for future versions of Daminion Server include: restricted access to content by user roles, and multi-user annotation of assets
Besides the small team edition, we'll also be launching a Daminion Home Server edition for home users who own 2 or more computers (for non-commercial use)
The price of the product will be affordable for small teams and home users.
We have done our best to simplify the deployment process of the Daminion Server. Installation and configuration usually take about 5 minutes, and it'll take you less than a minute to upgrade.
The Daminion Server download distribution archive file contains a comprehensive Installation Guide that will lead you through the Daminion Server installation process.
If you experience any difficulties whatsoever installing and configuring Daminion Server, please do not hesitate to let us know by leaving your feedback here as blog comments, by posting your question on our forum, or by contacting us via the technical support form.