I. Introduction
The Importance of Brand Marketing
In today's fast-paced and competitive business environment, standing out from the crowd is more important than ever. That's where brand marketing comes in. A powerful brand can create loyal customers, enhance your company's reputation, and ultimately lead to increased profits. In this article, we'll dive deep into the world of brand marketing, exploring its fundamentals, strategies, and techniques to help you master the art of building a memorable brand.
Goals of the Article
This comprehensive guide equips brand marketing professionals, entrepreneurs, and small business owners with knowledge and tools for successful brand strategies. We offer practical insights, advice, case studies, and real-world examples to help strengthen your brand and achieve business objectives.
II. The Fundamentals of Brand Marketing
Defining Brand Marketing
Brand marketing is the process of creating and promoting a strong, distinctive brand that resonates with a specific target audience. It combines strategic planning, creative development, and communication to maintain a consistent brand image and message across marketing channels.
The Purpose of Brand Marketing
The main goal of brand marketing is to build brand awareness, recognition, and loyalty among your target audience. Establish an emotional connection with your audience to stand out from competitors, enhance customer retention, and spur business growth.
The Role of a Brand in Consumer Decision-Making
A powerful brand can influence consumer behavior and decision-making in various ways:
Recognition: A well-known brand is more likely to be considered by potential customers during the decision-making process.

Trust:

Familiar brands with positive associations earn consumer trust, making them likelier to choose your offerings over competitors.

Loyalty: A strong emotional connection with a brand can lead to repeat purchases and customer advocacy, generating valuable word-of-mouth marketing.

Perceived Value:

A robust brand enables higher pricing, with consumers willing to pay more for perceived quality or prestige.
III. Building a Strong Brand Identity
Defining Brand Identity
Brand identity, the visual and verbal representation of your brand, encompasses elements conveying your brand's personality, values, and promise. A cohesive, consistent brand identity helps establish a strong presence in consumers' minds, distinguishing you from competitors.
Components of Brand Identity
Logo:

The logo, as your brand's visual representation, acts as a recognizable symbol, instantly conveying your brand's essence.

Typography: The fonts you choose can convey a specific tone and personality, contributing to your brand's overall image.

Color Palette:

Colors, evoking emotions and creating associations, play a critical role in shaping a brand's identity.

Brand Voice:

The brand voice, a unique tone and style in written and spoken communications, reflects a brand's personality and values.

Brand Values:

Core principles and beliefs guide a brand's actions and decisions, fostering authenticity and trust among the audience.
The Importance of Consistency in Brand Identity
Maintaining consistency in your brand identity is crucial for building a strong, recognizable brand. A consistent brand identity helps to:
Reinforce brand recognition: Consistent visual and verbal elements across touchpoints make it easier for consumers to recognize and remember your brand.
Establish trust: A cohesive, consistent brand identity conveys professionalism and reliability, increasing audience engagement and trust.
Strengthen brand associations: Consistently conveying your brand's personality, values, and promise reinforces consumer associations, fostering loyalty and advocacy.
IV. Developing a Comprehensive Brand Strategy
Defining Brand Strategy
A brand strategy is a long-term plan outlining the key components and actions necessary to achieve your brand's objectives. The blueprint for brand marketing efforts, it guides decisions and ensures a focused, consistent brand.
Key Components of a Brand Strategy
Target Audience: Define your ideal customers considering demographics, psychographics, and behavior patterns, ensuring your brand and marketing resonate with them.

Market Positioning: Determine how you want your brand to be perceived in relation to competitors, highlighting what sets you apart and makes you unique.

Unique Selling Proposition (USP): Identify the distinctive features or benefits of your products or services that differentiate them from the competition and appeal to your target audience.

Brand Messaging: Craft clear and compelling messages that communicate your brand's promise, values, and personality to your target audience.

Marketing Channels: Select the most effective channels to reach and engage with your target audience, considering their preferences and habits.
Tips for Creating a Cohesive Brand Strategy
Align with business goals: Ensure your brand strategy supports your overall business objectives and contributes to growth.

Be authentic: Stay true to your brand's core values and promise, fostering trust and credibility with your audience.

Stay customer-focused: Keep your target audience at the center of your strategy, ensuring that their needs and preferences guide your decision-making.

Adapt and evolve: Stay attuned to market trends and changes in consumer behavior, adjusting your strategy as needed to remain relevant and effective.
V. Implementing Brand Marketing Techniques
Content Marketing: Create valuable, relevant, and consistent content to attract, engage, and retain your target audience, ultimately driving customer action.

Social Media Marketing: Leverage social media platforms to share content, engage with your audience, and amplify your brand message.

Influencer Marketing: Partner with influencers who align with your brand values and can effectively promote your products or services to their followers.

Public Relations and Media Outreach: Build relationships with journalists and media outlets to secure coverage and increase brand visibility and credibility.

Events and Experiences: Host or participate in events that provide opportunities for your audience to interact with your brand, creating memorable experiences that foster loyalty.

Collaborations and Partnerships: Collaborate with complementary brands or partners to create unique offerings, reach new audiences, and strengthen your brand positioning.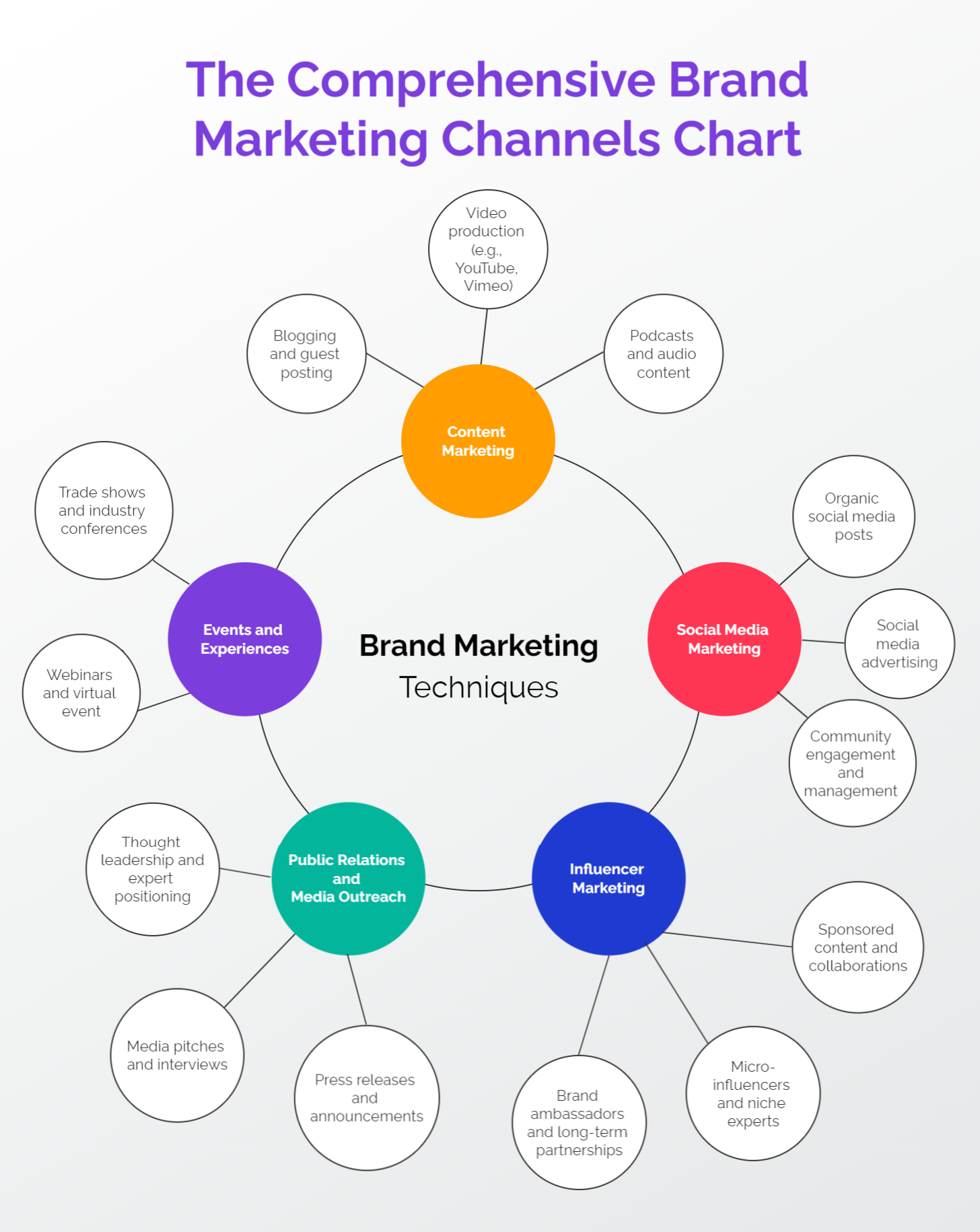 VI. Monitoring and Adjusting Your Brand Strategy
The Importance of Regular Monitoring and Evaluation
Regularly monitoring and evaluating your brand strategy is essential for maintaining its effectiveness and identifying areas for improvement. It allows you to:
Measure progress: Assess whether your brand marketing efforts are achieving your objectives and contributing to overall business growth.

Identify opportunities: Discover new trends, audience segments, or marketing channels that can enhance your brand strategy.

Adjust for optimal performance: Refine your tactics and messaging based on performance data and feedback to ensure maximum impact.
Key Performance Indicators (KPIs) for Brand Marketing
Common KPIs for brand marketing performance include brand awareness, recall, sentiment, engagement metrics, website traffic, lead generation, customer acquisition, and retention. Monitoring these KPIs allows gauging effectiveness and making informed strategy decisions.
Tips for Adjusting Your Brand Strategy Based on Data and Feedback
Analyze performance data: Regularly review your KPIs and analyze the data to identify trends, areas of strength, and areas that need improvement.

Collect feedback: Gather feedback from your target audience, customers, and team members to gain insights into their perceptions and experiences with your brand.

Test and iterate: Experiment with different tactics, messages, or marketing channels to identify what works best for your brand and audience.

Be flexible: Be prepared to pivot your strategy if circumstances change or if your initial approach isn't yielding the desired results.

Continuously learn and evolve: Stay informed about industry trends, competitor activities, and consumer preferences to ensure your brand remains relevant and effective.
VIII. Conclusion
Summarizing the Key Points
In this comprehensive guide, we've covered the fundamentals of brand marketing, the importance of building a strong brand identity, developing a cohesive brand strategy, implementing various brand marketing techniques, and monitoring and adjusting your brand strategy based on data and feedback. By applying the knowledge and tips shared in this article, you can create a powerful brand that resonates with your target audience and drives business growth.
Encouraging Readers to Apply Knowledge and Tips
Now that you're equipped with the tools and insights needed to master brand marketing, it's time to put this knowledge into practice. Use the strategies and techniques outlined in this guide to create, implement, and maintain a successful brand strategy that sets your business apart from the competition and fosters strong, lasting connections with your audience.
IX. Additional Resources for Brand Marketing Success
To further support your journey to mastering brand marketing, we've compiled a list of additional resources that can help you stay informed, inspired, and prepared to tackle the challenges of building a powerful brand:
Books:
Blogs and Websites:
Podcasts:
Online Courses and Certifications:
Industry Events and Conferences:
Remember, the world of brand marketing is ever-evolving, and it's essential to stay informed and adapt to changes in consumer behavior, industry trends, and best practices. Continuously invest in your knowledge and skills, and be prepared to refine your brand strategy as needed to maintain its effectiveness and relevance.
We wish you the best of luck in your brand marketing journey and look forward to hearing about your successes as you build a powerful and memorable brand that resonates with your target audience and drives business growth.