We have 2 items of news for you:
1. A new version of Daminion Server has just been released
The latest version has undergone comprehensive optimization, with many improvements and bug-fixes. Click here to download the latest Daminion Server 0.8.9b.
2. Order Daminion Server right now and get a 25% discount.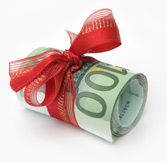 If you order Daminion Server right now you'll save 25% (for example, save $373 US buying 5 user license). The license will be transferred to the Release version (release is planned for: Q1-Q2'2012).
The promotion lasts for a limited period only, valid till 15 February 2012.
This offer is definitely not to be missed, because:
There's a 90-days money-back guarantee
It includes 1-Year's Maintenance* (from the Release date!)
The current beta version is very stable
The offer also includes a 7-day bug–fix guarantee
* Maintenance provides free upgrades for one year, even across major version releases.
** On the order page enter 25BETA coupon code in the box labeled "Your Coupon Code" towards the bottom of the screen.
Click here to order Daminion Server with 25% discount now**
Merry Christmas and Best Wishes for a happy new year!