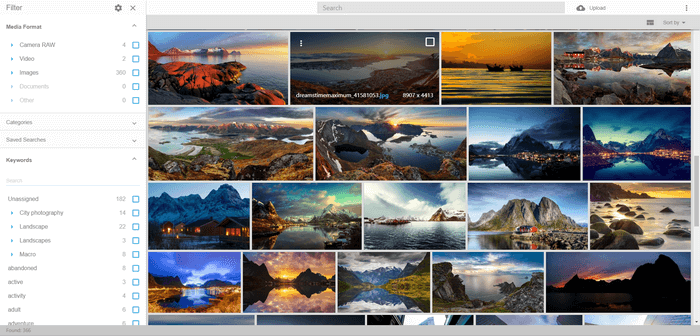 The new Daminion 6.0 version comes with several major improvements such as a re-modelled web client, video preview in web client for all video formats, new user roles editor, improved access control for Active Directory authentication, extended API calls, simplified login to the web catalog, and a range of other optimizations and enhancements.
Daminion 6.0 is available in cloud and on-premises versions. Works on all types of platforms.
Major improvements include:
Web client 2.0
A completely re-modelled web client presents a new, more user-friendly interface along with an extended set of options that allow you to customize web client according to your brand.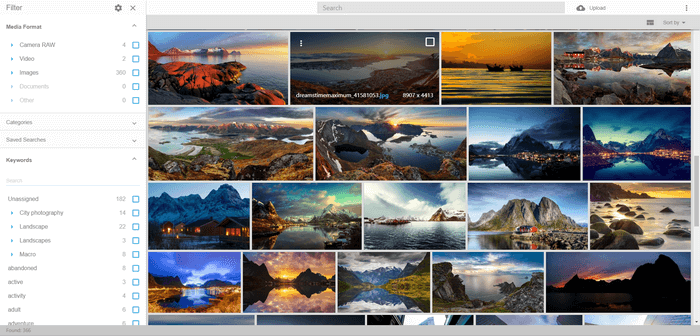 You can now customize Daminion according to your corporate identity. Set the introductory message and background image for your intro page, change the user interface colours and logotype.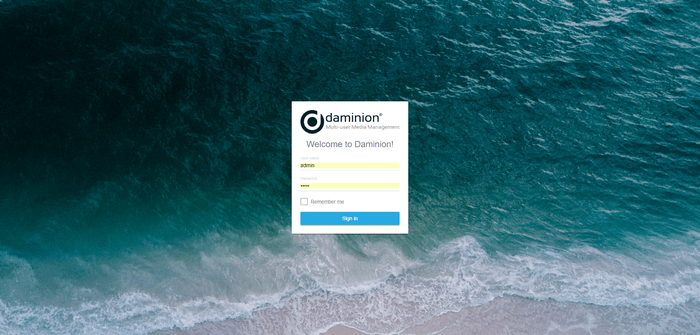 Video Preview
The new Video Preview option allows you to play ALL video formats directly in your web browsers, which significantly enhances your workflow (previously, it was limited to MP4 and WebM formats only). This option is especially useful for Mac users and those who manage mostly video files with Daminion. If the Video Preview option is disabled in your configuration you can enable it via the Daminion Administration panel. Once enabled, it will generate medium-res previews of video files in all catalogs. To learn more about Video Preview, click here.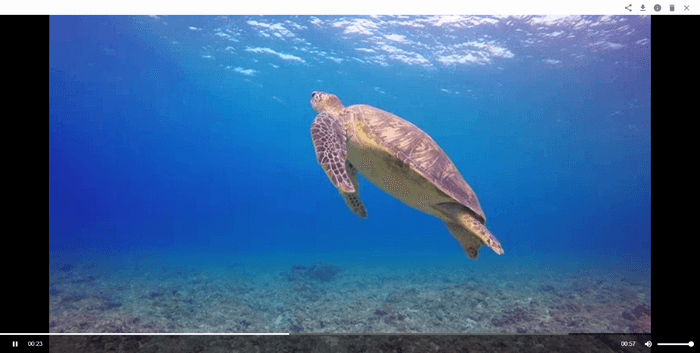 User Roles Configurator
The User Roles Configurator gives you greater flexibility and better control over user access permissions to the catalog. You can now change the access permissions of predefined user roles or create your own custom user roles with access permissions to provide better security for your catalog and data. Learn more about the User Roles Configurator here.
Improved access control for Active Directory authentication
The latest version of Daminion allows you to configure access control on file level when Active Directory Groups mapping authentication mode is selected in Daminion server. Access control represents a deeper level of access security on the file level when certain files can be hidden from the view of a user or a group of users. Learn more about Access control here.
Integration with other systems via new Daminion API
Daminion can easily be integrated with other systems like corporate CMS or CRM. The new Daminion Web API allows you not only to access your data and metadata in read-only mode but also to import/edit/remove new files and tags in absolute security (https + safe authentication).
Simplified login to web catalog
When logging in to Daminion web catalog in AD users/groups mapping authentication mode, you no longer have to enter the domain part of your login every time. During the first login, Daminion will recognize and remember the domain part, saving you from having to enter it over and over again.
Minor Improvements
● Added option to share and download files in full-screen mode in the web client
● Added "Download as ZIP" option for web collections
● It is now possible to create collections containing more than 30 items
● Improved web client performance when searching for files and displaying tags and thumbnails
● Added tag removal confirmation in the tag tree
● It is now possible to activate an option that allows you to log in anonymously to Daminion via the web client
● It is now possible to add files from Dropbox
● A range of minor improvements in the web client
Bug Fixes
– Fixed bug when shared collections of more than 30 files could not be created
– Fixed bug when Flag tag could not be removed in the web client
– Fixed bug when file metadata that was changed when the file was being checked out was overwritten when the file was checked in
– Fixed bug with Daminion web client assistant when files were not opened in external applications
– Fixed bug when Daminion Home server with two connections didn't allow the second connection
– Fixed bug when the background color of transparent images could not be changed
– Fixed bug when the relink of the root folder with extensive hierarchy failed
– Fixed bug when folders sorted by date was displayed in the wrong order in the Folders tree
– Fixed bug when Daminion web catalog could not be opened in IE11
– Fixed bug when multiple files could not be downloaded with applied export preset in Daminion web client
– Fixed bug when the option "Log in as guest" did not work for AD groups authentication mode in the web client
– Customization of tags in the filter panel, properties panel and edit tags panels use the same form and now preserve tag order
– Fixed GhostScript installation bug
– Optimized Relink Folder command for working with a large number of files
– Fixed .NET 4.7.2 installation bug
– Several minor bug fixes

Getting started with Daminion
Are your corporate digital assets still disorganized or you want to check this? Request a demo and get all your questions answered with one of our resident customer champions.