After 6 months of hard work, we are delighted to announce the release of Daminion 4.5. The latest version of Daminion has more than 6 major and 14 minor improvements. Most features in this release are related to Daminion Server.
Major Improvements:
1. Our new lightweight web-client allows you to access Daminion Server to search, browse, view, and download your digital assets on any device, including Mac, Windows, and Linux tablets and mobiles. It works with all editions of Daminion Server. Each web-client requires one concurrent connection. Although the web-client is currently working in read-only mode, it allows you to manage collections and users.
Learn more about the web-client, how to activate the web-access and grant or deny access to shared catalogs.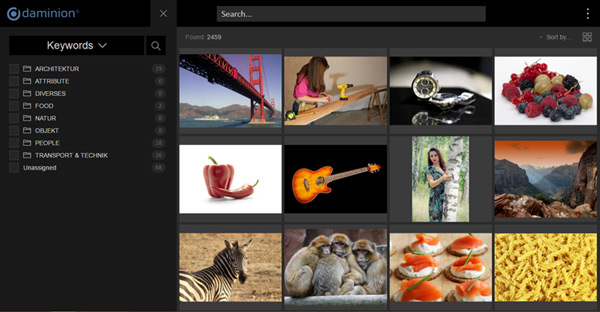 2. A real-time File Watching Service now tracks changes in outside file systems and reflects them in Daminion as soon as they occur. This drastically decreases the load on the CPU and HDD on your server PC because your folder structure no longer has to be rescanned at regular intervals. However, you can still use the old auto-rescan method for files and folders in remote Linux and Mac OS-based locations like NAS/SAN devices.
File Watching functions as a standalone service whether Daminion Server is working or not.
3. Usage Purpose Tracking allows you to keep tabs on when, where and by whom your assets have been used. For example, you might see that a photo published in the New York Times in 2011 should not be sent to National Geographic if you want to avoid license conflicts. Usage Purpose Tracking is built into the export, email, and print options. You can search for Usage Purpose fields via Advanced search.
4. Users Roles per Catalog. Specify who can and who cannot access particular catalogs.
5. User management via web-browser.
You can now create, edit and manage users via the web-client without actual accessing the server PC. This is especially useful when your PC administration is outsourced to a third party service company.
6. Improved file format support:
– Quality thumbnails now displayed for InDesign files.
– Added support for SVG images.
– Better support for rendering thumbnails of EPS, AI, WMF, and EMF vector images. It's no longer necessary to buy third-party components. Ghostscript software is automatically installed with Daminion.
– Added support for writing tags to the XMP of PDF files
– Added support for writing tags as XMP to PNG images when exporting
– Improved handling of TIFF files
– Added support for importing Revit files (you must have AutoCad installed on the server PC to display quality thumbnails).
Special Time-Limited Offer
For a limited period only, we are offering a 10% discount on any version of Daminion digital asset management system for all new users. The offer is open up to and including April 24, 2016.
Minor Improvements:
1. Added support for IBM/Lotus Domino LDAP authentication
2. Number of connected users and catalog database version are now displayed in the admin panel.
3. Report after rescan. A full rescan report is now available via Catalog > Rescan Reports, or by right clicking on the rescan progress indicator.
4. Groups added into Saved Searches
5. Custom tags are included in Quick Search
6. Documents and Vector images stored on a local server-based PC can be copied to the local client-based PC
7. Scroll position in the right-hand Properties panel is now remembered when changing item selection
8. Added Fonts tag. Mapped to XMP: Fonts
9. Added an option to the tag tree context menu to display the selected tag in the second panel. Ideal when you need to reorder values within the same tag – simply drag them from one tag panel to another.
10. Offline files can now be viewed as Full Screen or Mid-Size JPEG previews
11. Daminion Clients can be logged off automatically after a specified time interval
12. You can grant a user a separate Concurrent Connection.
13. Improved import from and export to CSV
14. Added license activation for Daminion Clients