One of our customers recently asked us a very good question:
"When adding image files to the Daminion shared catalog, is it best to select the option "Upload files to Server" or not? We store our image files on the server where our Daminion Server software is installed. There are several computers connected to this network that also need to be able to work with these files. Obviously, these files already exist on the server, so I was just curious… Thanks!"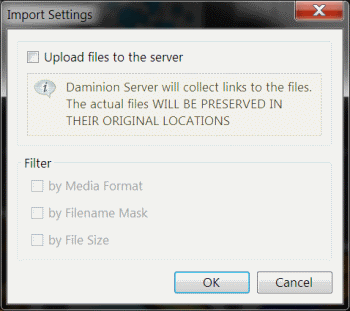 This depends solely on your file storage strategy. You can use any method, and even mix them: some of your files can be uploaded, others can remain in their original locations.
I've listed some of the pros and cons of these methods below:
1. Uploading Files to Server PC.
Importing files will be uploaded to the server computer.
Pros
Your assets are protected from uncontrolled access from outside Daminion, preventing anyone in your team from accidentally deleting your assets. Access to content and program functions can easily be controlled by user roles
Syncing tags with file metadata is much faster when Daminion Server and files are located on the same PC
Version control allows you to create multiple versions of the same file. You can track authorship and changes to your documents
Image rendering is faster
Cons
It might take some time to move/upload a large media library to the server PC. However, if your files are already stored on a Server PC you can quickly import them via Daminion Client, installed on the server PC
You must have enough free storage space on your Server PC to store uploaded files
Before opening a file through a third-party application Daminion will download it to the client computer
Because the current version of Daminion Server does not support video streaming, the second approach is better for importing large video files
Your folder structure will be flattened to a date-time based structure like Imported Year\Imported Date
2. Collecting Direct File Links
Only files located in shared locations can be imported by direct links. The files themselves will remain in their original locations.
Pros
You can play video files remotely using your favorite Video player without downloading it to the client computer
Security has less importance for home usage when only family members have access to the media library
Your folder structure will be preserved
Cons
Version control will be disabled for these files
Other users on your network can open/edit/delete these files, for example, through Windows Explorer
Notes
With the current version of Daminion Server we recommend that you store your Video files in a shared network folder and import them without uploading to the Server. This way you can easily play them on your client PC without having to download them to your client PC.
Other files can be copied to your server computer and then imported to Daminion Server using Daminion Client, which was installed on the server computer. This will make import much faster and you'll preserve your folder structure.