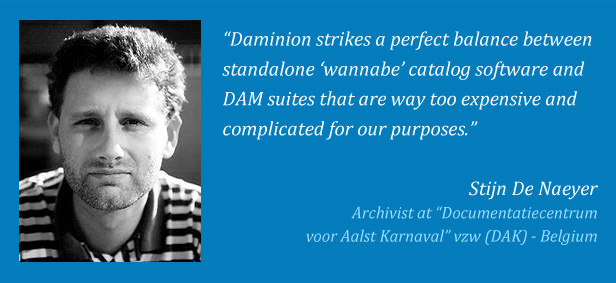 Photo library management of the Aalst Carnival without and with Daminion (multi-user Digital Asset Management software).
Stijn De Naeyer, an archivist at the Belgium non-profit organization "Documentatiecentrum voor Aalst Karnaval" vzw (DAK), share their experiences of deploying Daminion Server.
DAK is a nonprofit organization that was founded in 1985 with the goal of documenting all aspects of the Aalst Carnival (Dutch: Carnaval Aalst), the world-famous three-day festival held every year in the Belgian city of Aalst. In 2010, the festival was added to UNESCO's list of Masterpieces of the Oral and Intangible Heritage of Humanity. The DAK team is making sure that Aalst Carnival will be remembered for ever and a day.
Getting started with Daminion
Are your corporate digital assets still disorganized or you want to check this? Request a demo and get all your questions answered with one of our resident customer champions.