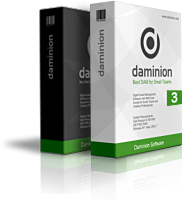 The new Daminion 3.0 (994) version allows you to limit the access of certain groups of users to certain documents. Now your digital repository can be protected on the functionality level (by user roles) as well as on the document level.
Another cool feature of version 3.0 is the ability to import images directly from mobile devices and digital cameras. Professional designers can import their Large Photoshop (PSB) images. The new version of Daminion can import people from Picasa people/faces as well as from other DAM programs that can write faces into XMP/MWG regions.
Below is a list of improvements and bug-fixes implemented since the last minor update
Improved Access Control
It's now possible to restrict access to individual documents, so that only certain users or groups of users are allowed to see them.
For example, if several designers or architects are working on different projects, you can specify who can access which documents. So, specialists will not see each other's documents unless the administrator allows them to do so.
How to protect access to documents
Launch the Daminion Client and connect to your shared catalog
Go to the main menu "Catalog" and select the "Access Control" option
You will see that all Daminion Users are listed below the Access Control option in the Catalog Tags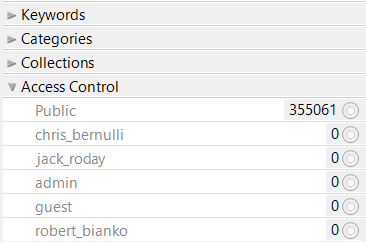 Only the administrator can see all existing groups. Other users will see the Public, Private and groups where they were included.
Users can be put into groups. To make files either public or private for certain groups of users simply drag them to an appropriate tag in the Access Control section of your Catalog Tags tree or right click on the selected items and navigate to the "Set Access Permissions…" menu option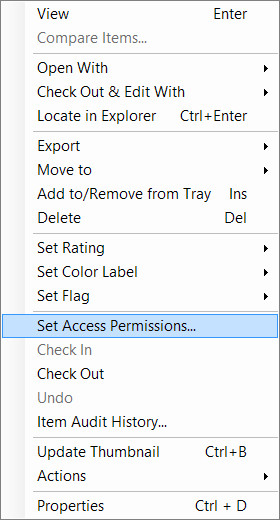 Import directly from mobile devices and digital cameras
If you connect your mobile device or your digital camera to your computer it will be available for selection as soon as you click the "Add Files" button.

The "Browse for Files…" option allows you to specify which files to import from your device. The "Browse for All Files…" option will scan all files in your device and select them for importing.
Offline Folders are now marked with an Offline icon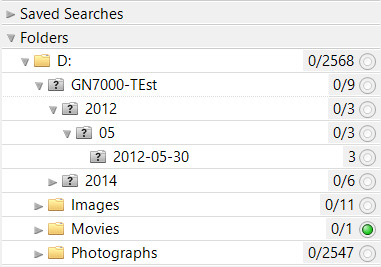 Added Back/Forward commands to return to previous queries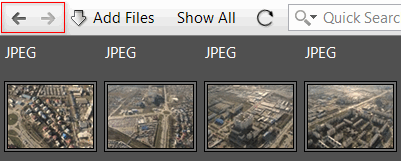 Other Improvements and bug fixes
Daminion Server
Connection to Daminion Server can be established by specifying an FQDN address
Empty Media Formats in shared catalogs can now be removed via the "Catalog > Optimize Database" command
Fixed bug when users with non-administrator role didn't see any files
Fixed bug with logging in as Guest login
Fixed bug that prevented Daminion from correctly locating the PostgreSQL 9.2
Fixed bug with certificates in the Server version
Fixed bug with assigning tags in Network catalogs when the Publishing Tag had been created by the same user on another PC.
Fixed bug when "Show Auto-Rescan Folders" command displayed incorrect information
Media Formats and Metadata
User defined thumbnails can be added for some file formats that cannot be rendered natively by Daminion. To add such thumbnails, first create a small (400×400) thumbnail image, call it: originalfilename.ext.thumb.jpg, and place it in the same folder as the original file.
Added support for PSB images (a preview can be added as a user defined thumbnail)
Added support for importing Picasa and Windows Live Photo Gallery faces via imported XMP:MWG regions
Improved writing tags to Video files
Added support for writing tags into Canon RAW (CRW), Sony RAW 2 (SR2) and Sigma/Foveon RAW (X3F) formats
Daminion can now update the Track Create Date field of QuickTime video files
Fixed bug with displaying default video icon in Full Screen mode
Fixed bug when WMV videos were not rendered properly
Fixed bug when lens and color profile were incorrectly displayed for some images
Fixed DateTimeParse. Parse error during import
Fixed bug with reading float XMP Rating values
Fixed critical bug with writing Custom Tags to metadata when Custom Tag name contained special symbols.
Fixed bug with updating metadata in Office documents
This Daminion build fixes the metadata issue with MS Office 2007 documents that were incorrectly updated by previous Daminion versions (earlier than 962)
Fixed bug with occasional incorrect rendering of Office thumbnails
Catalog Tags Panel
It's now possible to drag items to tags when the Tag Tree is in Filter mode
It's now possible to scroll the tag tree using the PgDown/PgUp keys
Look & feel of tag tree slightly changed
Fixed bug with the "Re-link Folder" command
Fixed bug with U hotkey in the tags tree
Fixed minor bug with highlighting a tag in the tag tree
Fixed bug with expanding tags in the tag tree after closing the Tag Customization window
Fixed bug with expanding tags in the tag tree after closing the Tags Customization window
Fixed bug with U hotkey in the tag tree
Fixed minor bug that made it impossible to use the mouse to check tags in the Catalog Tags panel in "Assign Tags" mode
Fixed bug when merging tag values with the same names were assigned to the same file
Properties Panel
Hint with tag suggestions can be invoked by double clicking the text area in the Properties panel
Double clicking the text input area of tags displays a list of recently assigned tags
Selected tag value is now added to the tag list after closing the tag suggestions list (previously you had to press the Enter key to do this)
It's now possible to automatically select the next item after clicking on the "Save and go to next" button
Fixed bug with annoying sounds while changing selection
Fixed scrolling glitches via keyboard
Fixed incorrect resizing of Title and Description fields in some cases
Disabled annoying sounds while working via Keyboard
Fixed bug when using PgDown/PgUp to select array tags
Fixed scrolling glitches via keyboard
Incorrect resizing of Title and Description fields in some case
Disabled annoying sounds while working via Keyboard
Fixed bug when using PgDown/PgUp to select array tags
Fixed bug where the Place tag could be removed while changing other tags and when multiple files were selected
View
Fixed a bug that was causing some CMYK images to display incorrectly when CMS was On
Fixed bug with incorrect rendering of color mapped images (8 bits, etc…)
Selected items are now highlighted in the Tray and vice versa
You can now display tags in multiple rows below thumbnails in the Contact Sheet
Improved tray
Improved thumbnail selection
Now users don't see the syncing process launched by other users
Fixed bug when "Loading…" and "Rendering…" messages were not visible
Fixed bug with disappearing Tags
Fixed bug when Daminion crashed while viewing thumbnails after browsing thumbnail for a certain length of time
Fixed bug with program freezing while viewing images
Fixed bug after deleting items in catalogs with created Publish Services tags
Fixed bug with incorrect display of multiple rows of captions below thumbnails on PDF Contact Sheets
Fixed stretching of portrait-orientated photos while panning in Full Screen mode
Fixed bug with Tray when Guest/Viewer was logged in
Fixed bug that appeared after rotating images in Full Screen mode
Fixed bug with Daminion freezing after cancelling Rotation
Fixed bug that displayed an error message when tags above thumbnails were changed
Fixed bug when the first image of new import session appeared blurred on first launch of Full Screen mode
Fixed bug where some Portrait-orientated images were stretched in full screen mode
Fixed bug that affected when viewing images in Full Screen mode
Import
Fixed bug when removable devices were not available in the "Add Files" menu
Fixed bug with %smodel token while renaming files
Fixed bug with cancelling import process from mobile devices
Fixed bug that made it impossible to close the Import window when the Main window had been closed earlier
Fixed bug that caused hint to be displayed in the Import Window
Fixed bug that appeared after trying to import duplicate items from mobile devices
Other
Improved Export Tags Window
Custom Tags are now available in the "Recently Assigned Tags" panel
Decreased line intervals in the Recently Assigned Tags panel
Customize tags panel now remembers its size
Fixed bug with the "Check In" command
Fixed bug when half of items in the "Recently assigned tags" window were not changed
Fixed FIPS compatibility issues
Increased timeout limit for the "Catalog > Optimize" command
Minor bug fixes
Updated Translations
Updated German translation (By Uwe Noack and Sedat Yakisir)
Updated French translation (By Reynaud Lionel and Alain Pierre
Updated Dutch translation by Peter Gebruers and Yves Royer
Updated Polish translation (By Mariusz Lewandowski)
Updated Spanish translation (By Jose Angel Calvo)
Updated Slovak translation (By Mr. Matus Kipikasa)
Getting started with Daminion
Are your corporate digital assets still disorganized or you want to check this? Request a demo and get all your questions answered with one of our resident customer champions.