Spending less time to search leaves you more time for your project work. Easy copyright tagging helps you to control the use of images and other content. Daminion digital asset management system can also tag your images automatically using AI.
➡️ Test-drive Daminion's auto-tagging now
Tags
Tags are the easy way to classify and locate your media files. Multiple tags can be assigned to a single file without taking up additional space on your hard drive. All the information about a file can be described by a set of tags (title, rating, keywords, location, media format, copyright, camera model, color label, etc…). Daminion can also tag your images automatically using AI. Test-drive Daminion's auto-tagging now.
Select a Tag:
Daminion makes a difficult job easy by automatically populating tags from your files' metadata during the importing process. Other information, like Who and What (see picture) can easily be assigned by dragging-and-dropping, using the properties panel, or using the Quick Assigner.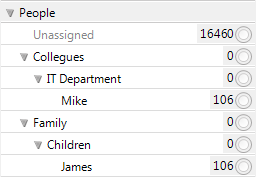 Complex TagsAs well as simple linear tags (title, image width, etc.), Daminion also supports complex hierarchical tags (keywords, locations, etc.) with no limitation on nesting levels. Using hierarchical tags you can describe your content much more precisely and, as a result, spend far less time locating your important files.
Unlike other tools for organizing content, Daminion will correctly write/read hierarchical keywords from/to IPTC/XMP. So your hierarchical structure won't lose data when you export or move your files.
Properties Panel
The properties panel shows all the media file information and can display complex hierarchical tags, too. Any changes you make can be undone right up to the moment you click "save".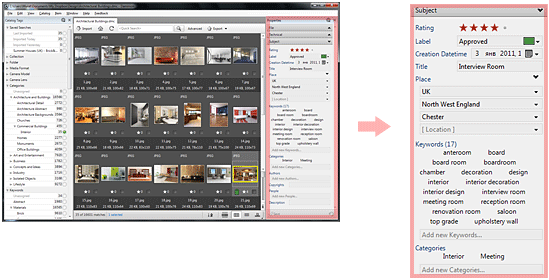 Move your mouse over a keyword on the Properties panel to see the complete hierarchical structure of the tag