There are many digital photo management software programs, but… they're all for standalone use only;
There are many enterprise level digital asset management solutions (DAM), but… they're too expensive for small teams;
Daminion is a true multi-user digital photo and document management software for small teams and creative professionals, at an affordable price.
One team – one content repository. All team members work with the same media content. Despite being oriented towards small teams, Daminion has all the benefits of corporate software for photo management:
Daminion Architecture
Daminion Architecture is scalable and modular. You can add support for virtually any media format and metadata by adding new media processors. Daminion Server uses Postgre SQL as its SQL Server and Daminion Standalone uses SQLite.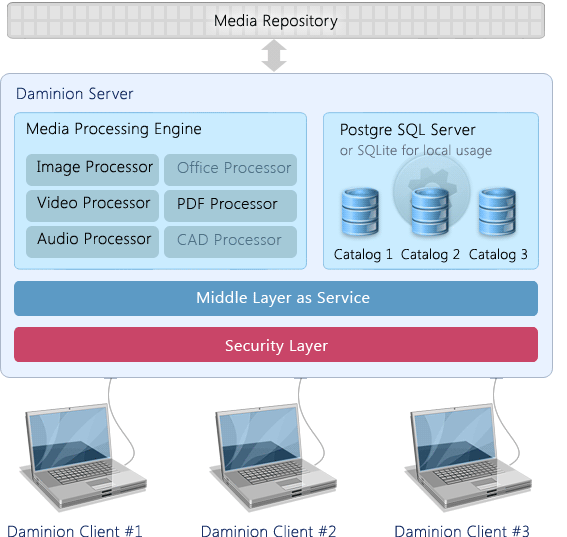 Daminion Catalogs
Daminion stores all your asset information in databases called Catalogs. Thanks to Daminion's index-based catalogs you will have instant access to any assets. Catalogs can be shared (requiring Daminion Server) or local.
Shared catalogs allow simultaneous access to content by multiple users.
Local catalogs are for standalone usage. These are small SQLite database files with the *.dmc extension.
Catalogs contains relative paths to the files; so you can move the "Photokina 2010 – Cologne" folder (see illustration below), with media files and catalog, to a new location. Or you can store your catalog on a removable drive without losing the links to the imported files.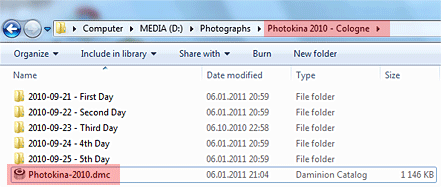 Open multiple catalogs simultaneously
Multiple catalogs can be opened simultaneously in separate tabs; just like multiple web pages on modern internet browsers. You can work with the Shared and Local catalogs on the same workspace.