Daminion supports a wide variety of file formats. Nevertheless, there may be rare occasions when you need to import a file with a format that Daminion does not recognize by default.
In such cases, Daminion enables you to integrate the unknown format manually.
To add an unrecognized format to the Daminion import filter, navigate to the File Menu and click Catalog →Advanced Settings→Import Filters.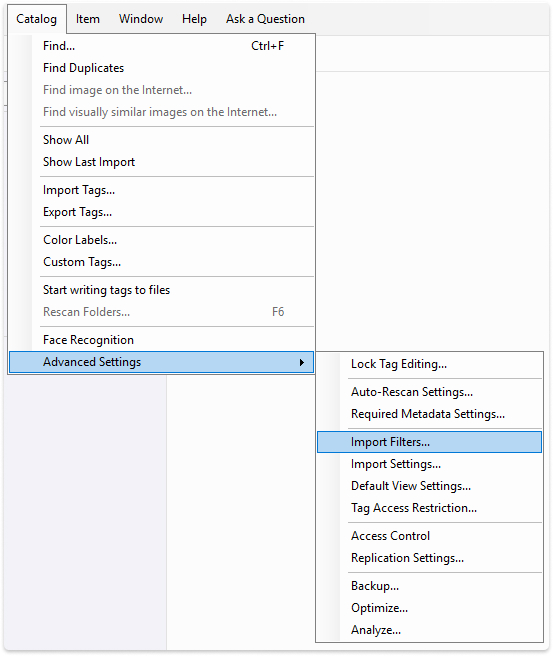 In the dialog box that opens, enter the file extension of your unrecognized file in the text box (in our example, we entered the DVD video format, VOB).
You can enter multiple file types simultaneously and also add file formats and folders to ignore during import.
Note:  All entries must be separated by a semicolon.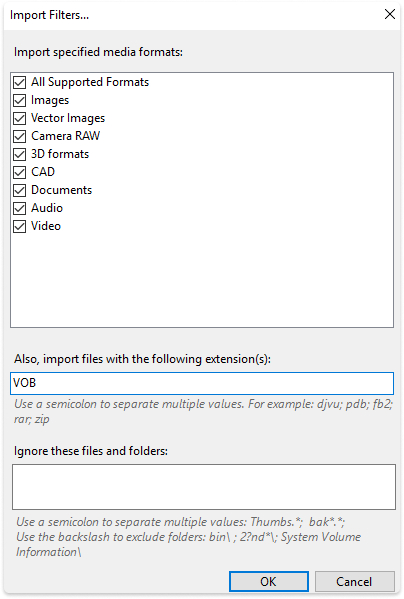 After you have entered the new file extension(s), click OK to confirm your choice and close the dialog box.
The file extensions are now included in Daminion's list of importable formats.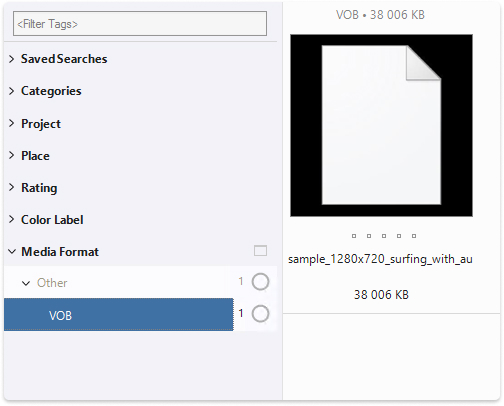 As you can see from the screenshot above, Daminion gives these user-defined file formats a generic thumbnail preview and lists them in the Tags Panel as Other→VOB media formats.
In all other respects, Daminion treats these files the same way it treats all other media files. Files of "unknown" format that are linked in Windows to an external viewer will automatically open in the viewer when double-clicked in thumbnail view in Daminion.
See Adding Custom Thumbnails to learn how to change the default thumbnail preview into one that is user-defined.